Introduced to the world in 2003, the Suzuki Ignis Sport is a performance variant of the normal Ignis. It was basically designed to provide owners with maximum smiles per buck without burning a hole in their pockets.
The car we have here was beefed up with a number of modifications, including a body kit, firmer suspension and
 close ratio gear box.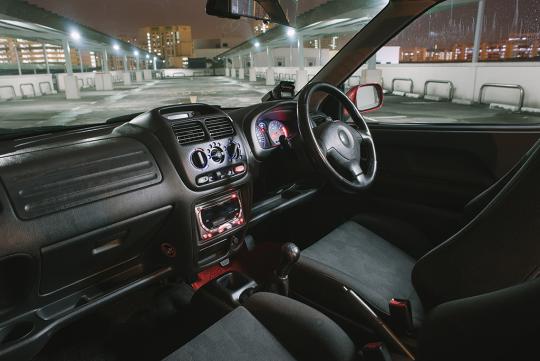 Moving inside, it was not hard to see why the car could be priced so competitively. The interior does feel a little plain compared to most basic cars today and you can forget about finding any soft touch plastics on the dashboard. That said, the cabin space is decent and the driving position is spot on. Suzuki definitely had only the driver in mind when they built this. Happy to report that the pedals are well-placed for heel and toe downshifts too. 
Lovely Recaro seats hug drivers tight when it comes to the twisties, which this cheery little car relishes. 
We aren't too sure about the yellow netting in the headrest though. 
Feels good to be shifting gears ourselves even though this particular car's gearbox does feel slightly tired.  
White face dials with blue back lighting was pretty cool back in the early 2000's. Even though we rev it for all its worth (wished it could rev higher than 6,500rpm), it returned a surprisingly respectable 13.5km/L. 
Again, nothing fancy here. Air-con is strong and cold even after all these years. Carbon fibre effect on centre console is a nice touch. 
Front and rear fog lamps a standard equipment.   
2-DIN head unit produces decent sound but is usually not turned on as we rather listen to the engine sing. 
Little 15-inch wheels coupled with 185-width tyres provide a good balance of grip and slip. This Ignis Sport rides pretty hard as it was on aftermarket coilovers. But it is oh-so-chuckable in the corners. Turn-in is instant and the car resists understeer well. We also hear that it can lift its rear wheel in a corner when asked too.     
Owner had a Sebring exhaust fitted to enhance aural pleasure.  
This 1.5-litre engine came with variable valve timing, pushing out 108bhp and 140Nm of torque. Nothing special but the car weighs less than a tonne hence the century sprint is a decent 8.9 seconds. A BMC intake (and we suspect a lightened flywheel) makes the car feel faster than it says on paper.   
Sad to say, this car is into its last eight months of its 10-year COE lifespan and currently the owner has no plans to renew its COE due to the sky high COE prices now. We do hope it does find a new owner who is willing to give it a new lease of life! 
suzuki

,

ignis

,

ignissport

,

sport

and 1 more...
Viewed: 8,691 times