When the 2013 BMW i8 was released at the IAA Frankfurt Motor Show 2013, it was always assured to be a hit partly because of the drawn-out development of the car which first appeared as a concept at the 2009 Frankfurt Motor Show building interest.
Now, BMW has officially confirmed that the 2014 BMW i8 has been sold out for the 2014 model year. Unfortunately, no sales figures for the BMW i8 were released, but selling an entire year's allocation in just a few months is quite impressive.
The 
BMW i8
is priced from €126,000 in Germany, while in the UK it has a base price of £99,125. In the United States, 
BMW will offer the i8 from US$135,700
.
There are nearly 10,000 orders for the i3 electric car, for which deliveries started in mid-November in Germany. The 
BMW i3
 will arrive in U.S. dealerships in the second quarter of 2014.
As a reminder, the BMW i8 features a plug-in hybrid powertrain featuring a 1.5-litre three-cylinder twin-turbocharged petrol engine developing 228bhp and 320Nm of torque that drives the rear wheels via a six-speed automatic gearbox and a synchronous electric motor developing 129bhp and 250Nm of torque that turns the front wheels via a two-stage automatic transmission. There's also a 5 kWh lithium-ion high-voltage battery with liquid cooling.
The car's combined system output of 357bhp and 570Nm allows it to sprint from 0 to 100km/h in 4.4 seconds and reach a top speed of 250km/h. Average fuel economy is estimated at 2.5L/100 km - obviously, including the use of the battery.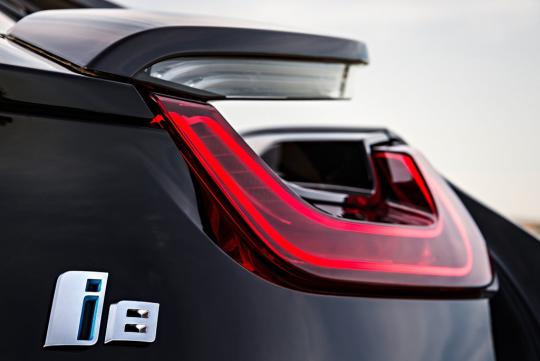 bmw

,

bmw i8

,

i8

,

hybrid

,

electric

and 4 more...
Viewed: 8,845 times