This is not your 'ordinary' WRX or STI. As much as the subtlety tries to hide, there are still little hints that will betray its true identity. This, is the Subaru Impreza S204. 
I'm not sure about the rest of you readers out there, but Subaru Imprezas and Mitsubishi Evos have a special place in my heart. In my childhood days, I spent a lot of time watching them at carpark rallies, instead of studying. And needless to say, I was all too happy to shoot this S204. 
A quick introduction of the S204. Based on the Japanese version of the 2.0-litre WRX STi (Singaporeans get the 2.5-litre version of the STi here), Subaru Technica International (STi) answered the request of its fans by giving the car more power and better handling through this limited run special. 
Only 600 units were said to be produced for sale in Japan but a quick search on the Internet revealed that the people living in New Zealand got a couple of units too. On that note, it is believed that every unit that made its way into Singapore had its number plaque removed. This troubled the previous owner, so while he was working in Japan, he got connected to the right people and managed to trace his car's number. It was unit 078/600.  
As mentioned, power was upped to 315bhp from 276bhp while torque went up to 431Nm. All these were achieved with the help of a twin scroll turbo design which was also featured in its predecessor, the S203. Turbo diameter in the S204 has been enlarged, while the turbine blade configuration has been altered to smooth out acceleration. Using a new turbo charger also necessitates the need to retune the ECU. 
Another highlight feature of the S204 is the installation of the Titanium muffler which helps lowers the exhaust back pressure. 
Of course, improvements were made to the chassis also.
 STi collaborated with Yamaha to develop a performance damper that improves handling immediately from the moment a driver turns in, through the turn, and at the exit.
Other notable stuff include the strengthening of the spring rate by 50 percent and an increase of the rear sway bar diameter to counter body roll. As expected, STI-unique pink feature on the various bars and links... 
Similar to the S203, the S204 comes standard with super high performance P ZERO tyres

by Pirelli

. These tyres come mounted on lightweight aluminum forged BBS wheels in size 18 x 8.5.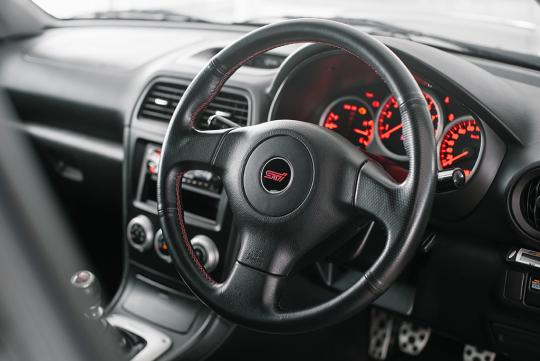 Moving inside, black was used on much of the instrument panel while lesser WRXs are painted in gunmetal colour.
Usual JDM (Japanese Domestic Model) WRX STis get their speedometers rated till 180km/h but the S204 gets 260km/h ones.
Other than Yamaha, STi also worked with Recaro to design these sexy lightweight bucket seats. Developed in Germany, the back is made of carbon while synthetic leather is used on the sides to add a touch of class. But frankly speaking, these seats aren't exactly the most comfortable for long distance driving.    
Moving back to the exterior, STi gave the S204 some minor but significant aerodynamic upgrades. New carbon front underskirt lip spoiler and a newly designed rear spoiler improves airflow and provide added downforce. 
Other goodies done up by the previous owner include a turbo timer and HKS EVC boost controller. You may think that the car has since had its boost pressure increased but its current owner is more than happy with the stock boost pressure. I am guessing 320 horses are enough to piss some pesky taxis and hot hatches. Having tried another JDM 2.0-litre STi before, the S204's power delivery is noticeably smooth and more linear.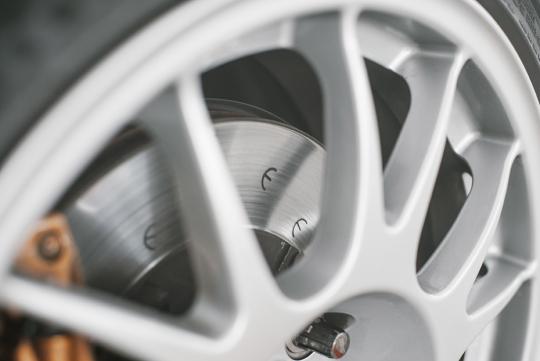 This S204 also had its rotor upgraded courtesy of a well known japanese brand, ENDLESS. Unfortunately, there is still room for improvement in terms of brake modulation. 
All in all, the various upgrades to the S204 make it a significantly improved car over a normal STi. If I was looking for an AWD sedan that I would use for daily driving and give me the occasional thrill, this would be a great choice. Knowing that there are only 600 in the world makes it even more special. 
subaruwrxsti

,

s204

,

jdm

,

impreza

and 4 more...
Viewed: 6,089 times