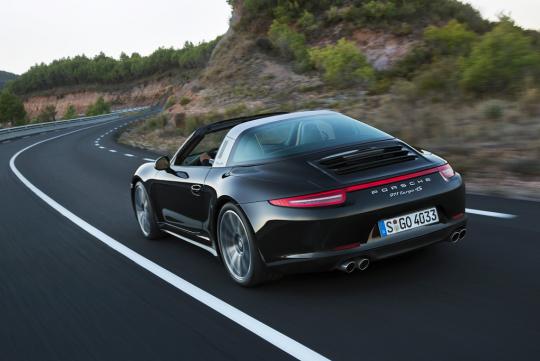 The all new 991-based model is the first Targa top model to combine advanced open roof technology with a distinctive coupe appearance.
Just like the legendary original 911 Targa, the 991 features a striking wide bar in place of B-pillars, a movable roof section, and a wrap-around rear window.
The three gills and 'targa' lettering on the sides of the silver trimmed bar are a subtle leitmotif - inspired by the original 1965 Targa model. I personally think - it looks not too bad! 
The Targa roof system in the 991 Targa consists of two movable parts - a soft top and a glass rear window. The rear window attached to the convertible top compartment lid is opened and tilted at the push of a button as the soft top folds and stows away behind the rear seats.
The mechanism takes around 19 seconds to operate and functions only when the vehicle is stationary.
Perhaps Lamborghini or Audi could borrow this nifty system for the facelifted Aventador or all new R8 models. 
The 991 Targa comes in two versions with all-wheel drive and a seven-speed manual transmission as standard.
The 991 Targa 4 is powered by a 3.4-litre, 350bhp flat-six engine - and when equipped with the optional Porsche Doppelkupplung (PDK) double-clutch transmission and Sport Chrono Package, it accelerates from nought to century in 4.8 seconds to reach a top speed of 281km/h. Nice.
Still, the higher rated 991 Targa 4S, delivers 400bhp from a 3.8-litre power unit to hit a top speed of 296km/h after reaching century mark in 4.4 seconds - of course when equipped with the PDK and Sport Chrono packages.
The 991 Targa models are currently available to order from Porsche Centres in the U.K. and Ireland, with first cars arriving in showrooms in May.
porsche

,

porsche 991 targa

and 3 more...
Viewed: 3,542 times