Infiniti has formally premiered the Formula One inspired - the 

Q50 Eau Rouge

 performance sedan concept - at the Detroit Auto Show. The Infiniti Q50 Eau Rouge expresses the firms design vision of a high-performance Q50 premium sports sedan.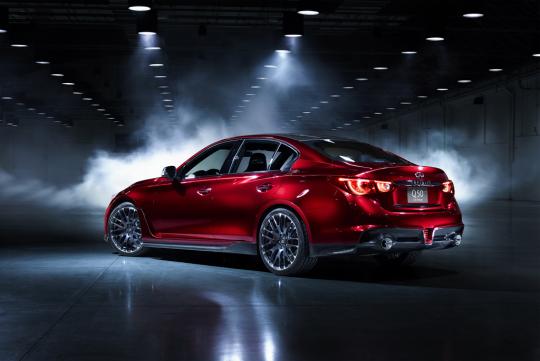 Featuring custom aerodynamic bodywork, the Q50 Eau Rouge is lower and wider. The performance sedan is inspired by masculinity, aerodynamics, refinement and power. 
The Q50 Eau Rouge mirrors components from the successful RB9 race car and almost every exterior panel is custom to the Q50 Eau Rouge. In fact only the front doors and the arch of the roof pillars are retained from its stock brethren. 
According to the premium Japanese marque, the interior of the Q50 Eau Rouge was designed to offer command and comfort. Precision control is afforded by a high-grip sports steering wheel and paddle shifters akin to Formula One. Red infused carbon fibre detail the doors - while the centre console complement the exterior styling. Once again, a darker shade of chrome replaces the more energetic silver chrome in the red cockpit.
"If we built this car I would expect it to feature over 500bhp and 812Nm of torque. Through our various alliance partners, we have access to a range of engines featuring this performance capability which, with a fair amount of engineering effort, can be developed to exhibit Infiniti character and accommodated within the Q50 engine bay," said Johan de Nysschen, President of Infiniti Motor Company Limited.
infiniti

,

infiniti q50 eau rouge

and 5 more...
Viewed: 4,396 times