As we should all know, Red Bull is no stranger to extreme motorsport, it came as no surprise to see them place eight Pro 4 racing trucks on a specially-designed race course on the hills of Maine's Sunday River Resort to see who is the fastest on ice.
10,000 spectators braved single-digit temperature to witness motorsport getting an edge on Mother Nature and they were not disappointed with the fierce battles between eight of the country's best professional off-road truck drivers. 
The racing proved to be intense from start to finish, with the final race pitting long-standing rivals Ricky Johnson against Johnny Greaves. With an extended four-lap final (all other rounds were two laps), Greaves lost to Johnson as he was penalised 5 seconds for gracing a race gate.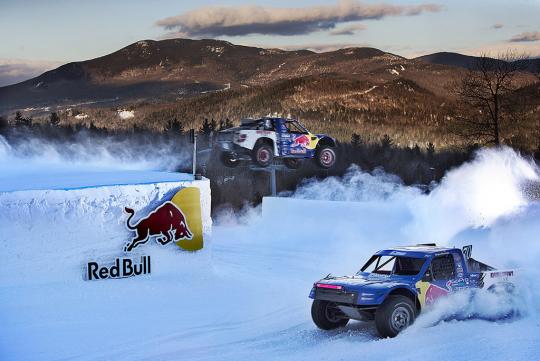 Watch the clip below to see the 900hp trucks, with specially studded Mud-Terrain BFGoodrich tires, go through the course (complete with jumps, slaloms and more), sideways mostly.
Red Bull Frozen Rush Results
1st place - Ricky Johnson
2nd place - Johnny Greaves
3rd place - Bryce Menzies
4th place - Rob MacCachren
5th place - Todd LeDuc
6th place - Scott Douglas
7th place - Greg Adler
8th place - Carl Renezeder
short course trucks

,

trucks

,

pro4

and 5 more...
Viewed: 3,733 times