Audi launched its flagship performance series line, the RS, with the Audi RS2 Avant twenty years ago. To pay tribute to the founding model, Audi will launch a special edition 
RS4 Avant
 Nogaro from early 2014. Although previewed through digital media, the car will celebrate its world premiere at the Geneva Motor Show, finished in Nogaro blue and carrying exclusive equipment. 
Like its forefather, the customised Nogaro blue pearl effect paint finish is the most noticeable visual signal of the anniversary model. Originally, the RS2 Avant was optionally finished with an exclusive Nogaro blue hue, recalling the two victories achieved by Frank Biela on the Nogaro circuit in the French Touring Car Championship of 1993. 
The RS4 Avant Nogaro houses a naturally aspirated 4.2-litre V8 powerplant that delivers 450bhp at 8,250rpm, with a peak torque of 430Nm available between 4,000 and 6,000rpm. The lump propels the RS4 Avant from nought to century in a brisk 4.7 seconds before climbing to a governed speed of 280km/h. It sips 10.7L/100km - for a CO
2
 equivalent of 249g/km. 
In the sporty interior, Audi offers two different upholstery versions. In both cases, the side sections are covered with black Valcona leather, Alcantara synthetic fibres for the centre sections and door trim inserts are coloured either black or Nogaro blue. 
A modern classic: the Audi Avant RS2 from 1994
The Audi RS2 was the first RS model from Audi, and also the brand's first high-performance model to combine everyday usability with a dynamic character. Audi developed the RS2 in cooperation with Porsche, with assembly occurring at Stuttgart-Zuffenhausen.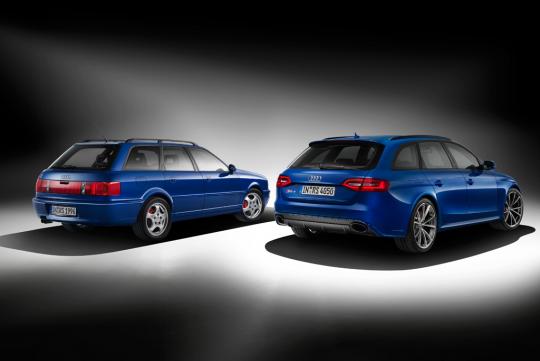 Its appearance alone was indicative of the power it held within. The front bumper featured powerful air inlets, and the grille was painted black. The rump of the RS2 Avant was dominated by a thick horizontal band of light that emphasises the width of the vehicle.
The force fed 2.2-litre five-cylinder engine delivered a modest 315bhp and 410Nm of torque and sprinted to the century mark in a respectable 5.4 seconds and reached a top speed of 262km/h. A six-speed manual transmission delivered the power to the quattro drivetrain, which had a manually activated locking differential at the rear axle.
Fast forward twenty years later and the 
Audi RS6 Avant
, the most powerful car in its lineup, is armed with 560bhp and a dizzying 700Nm of torque from a 4.0-litre V8. Dubbed the everyday supercar, the RS6 Avant completes the sprint to 100km/h in just 3.9 seconds - 0.7 seconds quicker than a V8 powered Audi R8. 
audiaudi rs4

,

audi rs4 avant

and 7 more...
Viewed: 2,606 times