After years of research, BMW is aiming to bring the vision of accident-free mobility closer to reality via BMW ActiveAssist – a package of partially and highly automated driving technologies. The experts at BMW Group Research and Technology have built a research prototype which can pilot its way at high speeds with exceptional precision, adhere to a marked out circular course regardless of road surface, and execute an obstacle-evading lane change. 
Even when deliberately provoked into oversteer the highly automated prototype follows its path safely and along almost identical lines time after time. The sensors delivering the necessary information are akin to the standard fitted systems found on today's vehicles.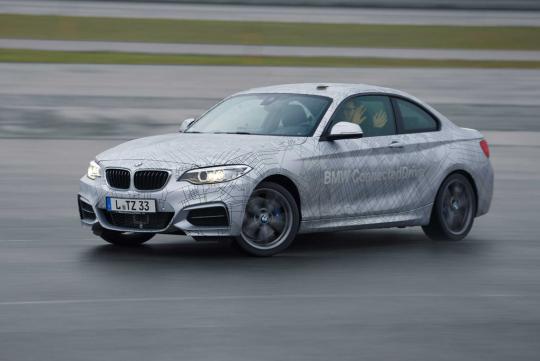 Back in October 2009 the BMW Group rolled out its BMW Track Trainer research project to showcase highly automated driving on the ideal line around the gruelling Nurburgring-Nordschleife, race track. Developed by engineers at BMW Group Research and Technology, the BMW Track Trainer later demonstrated its effectiveness on other circuits including the Laguna Seca and Hockenheimring, among others. 
The BMW Emergency Stop Assistant research project added further important insights to the knowledge pool. If the driver is weakened - for example by a medical emergency like a heart attack – the function switches the vehicle into highly automated driving mode, steer it safely to the side of the road and automatically activate an emergency call. 
In 2011 a test vehicle covered 65km on a multilane highway in automated mode. The research prototype accelerated, braked and overtook other cars along the way without any driver intervention – while observing traffic laws and keeping pace with the traffic at speeds of up to 130km/h. The prototype has since covered approximately 15,000km. 
Since February 2013 the BMW Group and Continental have been working together to introduce several test vehicles with close-to-production technology. The BMW Group's next major goal is to introduce highly automated driving on European motorways and tackle the challenges - such as crossing national borders and negotiating roadworks 
bmw

,

concept car

and 7 more...
Viewed: 3,598 times