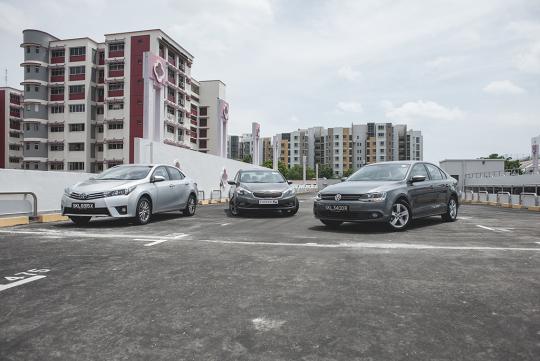 Toyota recently launched their 11
th
generation Corolla Altis and it is a pretty well-resolved car. Since this 1.6-litre sedan category is such a hotly-contested segment, we thought it would be nice to have a second opinion of the Corolla Altis comparing with some of its closest rivals… 
Kia Forte K3 1.6
First up, our recent Sedan of the Year winner, the Forte K3. Despite being launched last year, the car still looks pretty darn fresh. No surprises given that the Koreans have been producing cars that are almost guaranteed to look good without burning a big hole in your wallet. At press time, it is almost 10 grand lesser than the rest while being the most well equipped. It also felt like it had the most room among the others. However, all is not that well when you start driving. Steering, while being the sharpest and most direct, feels slightly artificial. I wasn't too sure I liked the variable steering weight system also as I found myself changing between 'Normal' and 'Sport' every now and then. I couldn't find fault with the ride and grip level were as good as the rest. 
Volkswagen Jetta 1.4 TSI DSG
Personally, I have always found the Jetta to be a handsome car. So it took me by surprise when I thought it didn't look as sharp as it had always been to me when we parked the cars side by side. Having sampled the Jetta over quite a few miles couple of years ago, it felt good to be back behind the wheel of one. The chassis feels stable, steering reassuring and engine strong. Just like how I remembered. However, unlike then, age has ruthlessly caught up and the interior is starting to feel a little bland as compared to the other two. Not having much equipment on board hurts its scorecard too. Glad to report interior space is more than adequate and overall, the car feels a notch better in quality than the rest. 
Toyota Corolla Altis 1.6
The Corolla Altis. I'm sure most people should have driven or sat in one at least once in their lifetime. I spent most of my teenage years in one and not once did it break down. It was never the fastest nor the best-looking but it was loyal and dependable. Coming to the latest one, I must say Toyota has definitely upped its game and gave it a great looking face. I would even go as far as saying the Toyota is the most handsome one here. Moving inside, the car has grown quite abit and build quality is much improved. Equipment levels are acceptable too. On the move, the Toyota is the quietest and feels lively. Comfort level is definitely on par or better compared with the rest in this segment. Its new Super Continuously Variable Transmission with Intelligence is also worth commending for not being like most whiny CVTs in lesser cars. 
If you have yet to read our comparison story between the Toyota Corolla Altis 1.6 and its rivals, click
here
.
toyota

,

corolla

,

altis

,

comparo

and 4 more...
Viewed: 38,380 times