Jaguar has just handed out details of its XFR-S Sportbrake - a fire breathing, 543bhp 5.0-litre supercharged wagon capable of dishing out a 4.8 seconds century sprint.  
Everytime a carmaker spices things up, people (like us) get excited. Moreover we are talking about a Jag here - who could resist a sexy feline that has just gotten hotter?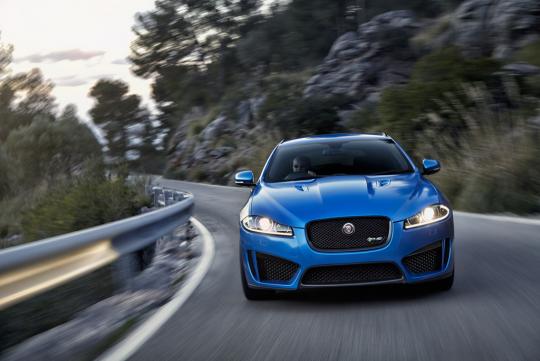 Based on the XF, the XFR-S Sportbrake is Jaguar's first high performance, R-S badged estate. With that in mind, you can't help but to bring in more 'established' players - such as Audi's RS6 Avant and Mercedes-Benz's E63 AMG S-Model Estate into the picture.  
A quick comparison with the two Germans shows that the Jag loses out both in the horsepower contest and the race to 100km/h. The RS6's 4.0-litre bi-turbo V8 develops 560bhp and 700Nm of torque for a 3.9 seconds century sprint timing. The E63 AMG, too, has a bi-turbo V8 - but bored to 5.5-litre. With 585bhp on tap, it will despatch the 0-100km/h sprint in 4.1 seconds.   
But we reckon you won't encounter either of these two on a daily basis. More importantly, the Jag has the looks to kill.  
Like any super sports car, the XFR-S gets larger-than-life 20-inch rims to help boast a solid, purposeful stance.  
Those side blades do look a tad too familiar though (like those on the RS6).  
And of course, part of the Sportbrake's appeal lies in its ability to swallow cargo while keeping up with supercars - up to 1,675 litres with the rear seats folded.   
jaguar

,

xfrs

,

sportbrake

,

wagon

and 3 more...
Viewed: 13,112 times