As the five red lights went off at the Melbourne Grand Prix Circuit in Australia yesterday afternoon, the high-revving, high-octane sport of Formula One entered a new era. Lining up on the grid were probably some of the appalling (and vulgar) cars the highest class of motorsports has ever witnessed.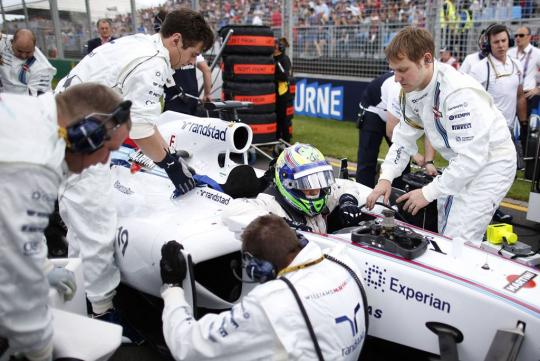 22 turbocharged 1.6-litre
hybrid
racers set off, but only 15 saw the dance of the chequered flags. Felipe Massa's debut in his beautiful, Martini-liveried Williams ended short due to Kamui Kobayashi's clumsy accident in his Caterham with the former in the first lap. 
In addition, the season opener saw both Lotus cars, the second Caterham, Lewis Hamilton's Mercedes and Sebastian Vettel's Red Bull lost to various technical issues - including total loss of power for the quadruple champion.  
Ferrari and Torro Rosso were the only works team and Renault-powered team, respectively, to complete the Grand Prix without major hiccups. 
Mercedes' display of strength was only tainted by pole sitter Lewis Hamilton's retirement on lap three due to a misfiring engine - and it was the sole Mercedes powered car that was lost to a technical issue. 
Despite the drawbacks, the German national anthem was heard in all its glory once again during the podium ceremony - but for the first time since June 2013, it was compatriot Nico Rosberg (who also coincidentally won the British GP last June) who took the honours. 
Rosberg denied Red Bull's Daniel Ricciardo and McLaren's rookie, Kevin Magnussen, a place on the top spot of the podium in a style of domination akin to Vettel. 
Rosberg steered clear of Australian Ricciardo by 24.5 seconds while Danish driver, Magnussen, marked an impressive debut on his maiden F1 outing by not only finishing third but also ahead of his teammate - former world champion Jenson Button - who rose up the grid from starting at tenth.  
The Ferrari 'dream' team of Fernando Alonso and Kimi Raikkonen had a decent race - although nothing memorable after finishing fifth and eighth respectively. 
Post race, the season opener became a nightmare for the defending quadruple champions after second-place finish Ricciardo was disqualified from the race. The decision came about after his car was considered to be in breach of fuel flow regulations. 
According to a FIA sensor which was fitted to the car, the Red Bull exceeded the maximum allowed fuel flow of 100kg/hr, and after over five hours of negotiations - the stewards eventually ruled the car was run illegally. 
According to the ruling body, the car was not only in breach of the fuel flow regulation but apparently the team was found not to be compliant with technical regulations throughout the event. Naturally, Red Bull has made clear its intentions to appeal the decision.
nico rosberg

,

formula one

and 6 more...
Viewed: 3,683 times