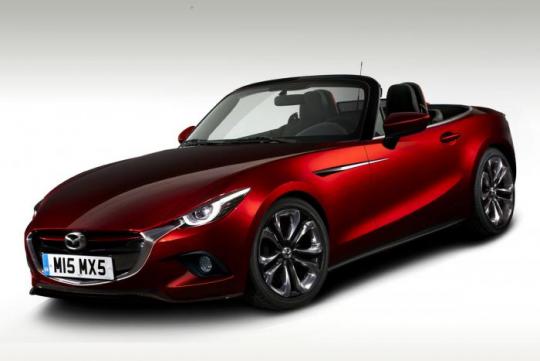 Twenty-five years after the original Mazda MX-5 was revealed at the 1989 Chicago Motor show, Mazda has given us our first insight into the technology that will underpin the all-new fourth-generation MX-5 – due on sale in 2015. Now these  images show how the car could look.
Displayed at last week's New York Motor Show wasn't the new Mazda MX-5 itself, but the advanced new SKYACTIV-chassis and engine that will form the backbone of the new MX-5, and the new Alfa Spider being co-developed alongside it. Mazda has confirmed the engine will be positioned behind the front axle and closer to the car's centre than ever before, plus the centre of gravity will be lower than previous generations – factors that should improve the handling.

The new chassis has also been engineered for "outstanding body rigidity and crashworthiness", while the weight has been reduced by more than 100kg through the use of thinner, higher-strength steels. As a result, entry-level soft-top models are expected to weigh less than 1,050kg.





New Mazda MX-5: extra details

:
At this stage there are no other official details from Mazda, although the car is expected to gain a slightly longer wheelbase than its predecessor for improved stability, comfort and interior space. The engine range is likely to include a pair of naturally-aspirated four-cylinder SKYACTIV petrol engines – one a 1.5-litre unit and the other a 2.0-litre, with around 130bhp and 165bhp respectively. As you can see in the picture, a manual gearbox will continue to be offered, with an auto as an option.
 


Mazda is giving little away about the car's design, but it's believed to be a very different interpretation of the 'Kodo' design language – rather than a cardboard cut-out of the new Mazda3 or Mazda6. Expect simple-surfacing and classic roadster proportions with a long bonnet and the cabin pushed back towards the rear axle.
mazda

,

miata

,

mx5

,

mx-5

,

roadster

and 1 more...
Viewed: 8,133 times