Day 3 of the trip. Woke up around 9:00am to great weather. (You can check out
Part 1
and
Part 2
for previous entries on this trip) 
Before setting off, I took one last stroll around the hotel's vicinity and the beach. One thing I learnt from this trip was time was way too tight. Even though I had a nice pool and a beach at my disposal, I never found time to go for a dip.  
Upon reaching the car after checking out, I was flabbergasted to find some dog poo on my windscreen. Great start to the morning I guess... 
Decided to go pass the dam and back on Jalan Teluk Bahang for one last blast of the B-roads as I wanted to try out the newly built second bridge that starts from Batu Maung which will then lead us back to the main land.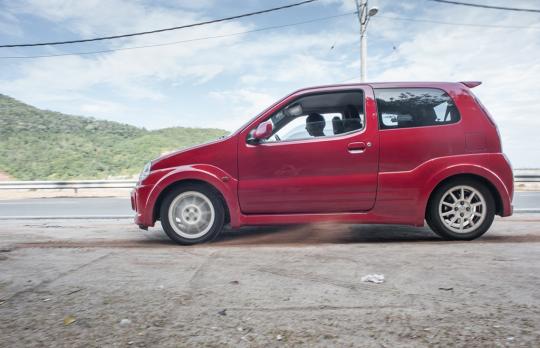 Saw some gravel and did some unnecessary stuff while no one was looking... 
Doesn't the road look inviting? 
Note the drop on the right side of the road! 
More scenic views while descending from the hills.. 
Alas, bad luck struck again. Seems like the bridge was closed for some last minute maintenance upon arrival. Back to using the old bridge then. 
From then on, it was the long drive home. It rained at times, making the driving a bit dreary as visibility dropped and so did the speed. 
At least the occasional supercar and a good lunch brightened things up. 
Overall, the trip was a success and I would recommend everyone to try going up at least once. 
However there are a couple of things I would like to highlight to all readers. Firstly, it is a pretty long drive. Eight hours to be exact for a one way trip. Having another driver or stopping over at Kuala Lumpur would be a better idea. Secondly, a 3D2N stay at Penang is too short! I missed out on quite a few other attractions like museums and temples that were said to be worth visiting. Lastly, do a full check up on your car first before you do a trip. Unfortunately, I forgot and halfway through, I was out of gas for the air-con. Needless to say, it got pretty warm at times.
malaysia

,

penang

,

ignis sport

and 2 more...
Viewed: 3,678 times