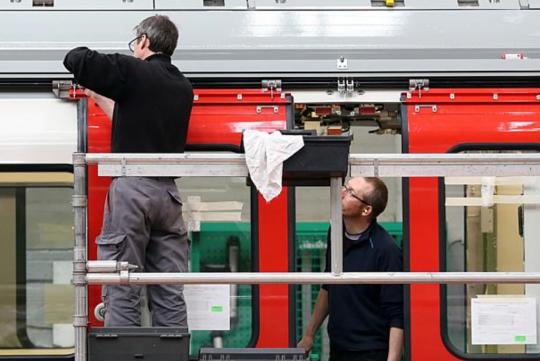 PREVENTION is considered the best approach to modern healthcare. Instead of treating a health issue when it occurs, it is more effective to prevent it from occurring in the first place. The same goes for our rail network. To maintain the health of this vital service, it is important for the operators, Singapore Mass Rapid Transit (SMRT) and SBS Transit, to take on the role of doctor by checking the network's pulse and reacting swiftly if it misses a beat. 
Singapore has grappled with disruptions to train services in recent months, including a delay on the North-South Line in January that affected some 19,000 commuters during the peak-hour rush. With an expanding yet aging network that now carries more than 2.5 million passengers a day, it is even more important to undertake regular health checks. 
SMRT and SBS do undertake regular rail infrastructure upgrades, although often as a result of deterioration and service disruptions. Earlier this year, 120km of the Circle Line's power cables were replaced following power outages in 2011 and 2012. In February 2013, 1,600 U-bolts holding up the North-East Line's power lines were also swapped after corrosion resulted in disruptions in early and mid-2012 and early 2013. 
But it is encouraging to see that operators are starting to proactively monitor the network's pulse to detect issues before they arise. Implementing a Big Analog Data™ system - which enables physical data such as train speed, vibration and heat levels to be remotely collected, analysed and converted into digital data - will allow operators to identify and fix issues before they even occur. The cost savings from such adaptive learning techniques will also be much more significant compared to post-breakdown maintenance. Plans are in place to upgrade the network to develop a fully integrated, multifunctional monitoring system, which will enable early detection of issues and reduce the risk of outages, with some trains on the North-South and East-West lines already equipped to collect real-time measurements and statistics and identify problems as they run. 
Real-time data detection devices could greatly support network functionality and maintenance as part of a broader system covering all lines, but like preventative measures to improve personal health will take time to implement and take effect. 
Issue-specific monitoring
In France, the Régie Autonome de Transports Parisiens (RATP) recently renewed its maintenance monitoring process. RATP operates the city metro and the regional express network (RER) which transport around three billion passengers a year, making it one of the most widely used public transport networks in the world. 
One of the key issues facing the RATP is rail movement, with environmental factors such as changes in temperature impacting the position of the rails. This means that RATP needs to constantly monitor rail position, a cumbersome process which was carried out manually until 2011. 
Three years later Railshift, a completely autonomous system for acquiring, processing, analysing and reporting data was implemented on a segment of the RER to monitor rail movement. 
Twelve measuring stations were set up to capture rail positions and monitor movement, using image processing and analytical technology. Track position measurements are analysed and e-mail alerts are distributed when a critical threshold is reached, enabling service crews to attend to issues before they become larger problems that could disrupt services. 
Automating track position reading has not only made data analysis more regular, but has also made the process safer for operators, as manual interaction with the track is no longer required, particularly when the trains are running. Image processing is also available through the application to take instantaneous measurements of larger areas of infrastructure, saving time and money. 
The implementation of the measuring stations has proved to be so successful that RATP has planned to install another eight new measuring stations. 
Holistic condition monitoring
Another example of the benefits of using integrated remote access monitoring systems is in Holland where VolkerRail carries out maintenance work across the country's rail network, during which it is required to maintain a minimum railway operating time, or face hefty fines. To deliver the required up-time, VolkerRail installed an online condition monitoring system at the most critical points across the network, including tracks and level crossings. 
The system has now been running for over two years. A server stores all the data in a database. On this server, queries run constantly to detect event failure patterns, show trends and send text message alarms to surveillance teams. 
By taking multiple measurements and monitoring them over time, VolkerRail is able to track the current "health" of the infrastructure. Automatic analysis of trends enables VolkerRail to detect potential problems and have the maintenance crew attend to them before they cause service disruptions. Being able to pinpoint the location and time an issue occurs also help in ascertaining the likely cause, decreasing downtime during repair. 
Within a year, more than 200 complex monitoring systems were installed across Holland's rail network to track the status of rail infrastructure. 
Singapore's rail network will continue to expand in line with the Land Transport Authority's plan to double the length of the national rail network to 360kms by 2030. We simply cannot miss the train when it comes to service reliability and commuter safety. With proactive planning and investment in equipment that allow SMRT and SBS to monitor its pulse, we too can have a fully integrated, real-time monitoring system to help keep the network's health on track. 
-- PHOTO: BLOOMBERG 
by Chandran Nair
The writer is managing director, South-east Asia, National Instruments. Since 1976, National Instruments (www.ni.com) has equipped engineers and scientists with tools that accelerate productivity, innovation and discovery
rail network

,

smrt

,

train

and 3 more...
Viewed: 1,565 times