Lego isn't just for kids anymore. A while back, the company cleverly realized that adults liked its connecting blocks as much as kids but wanted a more sophisticated project to take on. It offers a whole set of Expert models, including a wickedly cool Volkswagen Bus from a few years ago. Now, it's taking aim at automotive enthusiasts again with the recently announced classic Mini Cooper set due to go on sale on August 1 for US$99.99.  
This is a seriously cool Lego model. At nine inches long, five inches wide and four inches tall, the car is certainly compact (as a Mini should be), but it contains 1,077 pieces. It's finished in the classic Mini look with a British Racing Green body with white roof, hood stripes and mirror caps. The doors, hood and trunk all open up, and there's even a little, simulated engine. The interior includes features like a turning steering wheel and movable gearshift and handbrake.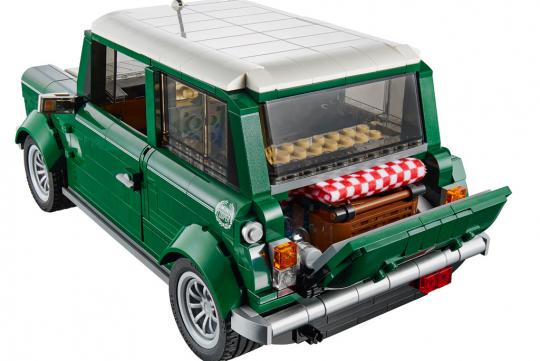 In the boot, there is a cute picnic set, and even a spare tire hidden under the floor. If you want to show off your handiwork after it's built, the roof is removable to peer inside.  
Expect dads around the world to be unwrapping these when the holidays roll around. Scroll down to watch one of Lego's designers detailing its latest set and read the full release about it, below. The gallery shows the Mini off from all of its blocky angles, as well.  
lego

,

mini

,

mini cooper

,

cooper

and 2 more...
Viewed: 3,531 times