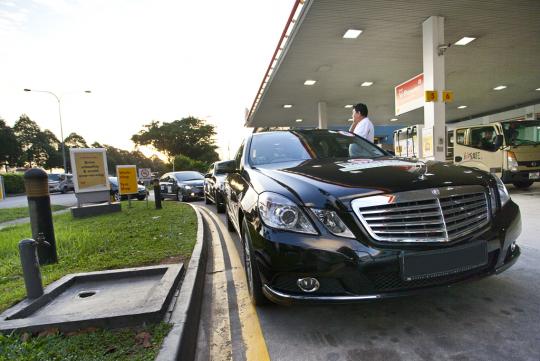 A road trip is almost the perfect holiday - especially for any keen driver who is looking for a temporal relief from the hustle and bustle of our urban city. Hence, you can imagine our excitement when we were invited on a short getaway to Cameron Highlands. Think of the drive up North via the long highway where we could stretch our muscles (or the cars', more specifically), and the winding mountain road up the famous hill resort.    
As with most road trips, we got up to prep before dawn, and embarked on the journey just as the Sun rose.  
Soon enough, we were across the border, where we regrouped and readied ourselves for the long drive.  
Prior to the drive, the cars have been given the 'proper treatment' by the good souls at Idemitsu, who fed the workhorses with different grades of their engine oil. The purpose of the drive is to collate data on how much fuel savings the cutting edge oils could bring. As part of the 'experiment', we were just as excited.  
While the team were busy working, we did not forget to 'eat snake' at rest stops on the way.  
It wasn't long before we pulled over at the Dengkil rest stop to have a taste of local delights.  
And of course, we made sure that the cars were 'well fed'.  
After a couple of hours fighting the post-lunch syndrome, we arrived at the foot of Cameron Highlands.  
And soon enough, we reached our stop for the next two nights - Century Pines Hotel.  
Even after the long drive, we did not want to waste any time to get ourselves acquainted with the beautiful and scenic place.  
And of course, we had to check out the nearby night market. On our way, we were kept busy with the steady stream of older cars on the road. They carry a certain flavour that is lacking in Singapore. Old is Gold!   
mcf

,

idemitsu

,

road trip

and 4 more...
Viewed: 6,812 times