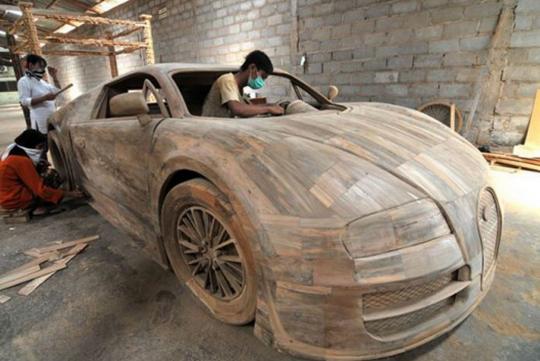 Can't afford the real deal but still want that 1,184bhp Bugatti Veyron? How about this full size replica of the Bugatti then. 
Made by a workshop in
 Central Java, Indonesia, it is making news for itself with its beautifully handcrafted wooden replicas of actual cars. Other the the Veyron shown here, they have also done replicas of a Mercedes-Benz 300SL and even motorcycles.
Made from teak wooden scraps, it has a highly detailed interior and even comes with an functional steering wheel, gear lever and pedals.   
So we hear you want one. Fortunately, they do cater to overseas customers. And you can have the Veyron here, which is said to be made for a German client, for 
40 million Indonesian Rupiah (S$4,230). A steal compared to the real 
McCoy.. 
wood

,

bugatti

,

veyron

,

replica
Viewed: 4,365 times