There's something wondrous about the Vision Gran Turismo series of concepts that has let companies go wild with completely imaginary concepts for
Gran Turismo
. For Chevrolet's crack at the idea, it has taken a page out of its performance past with the Chaparral Can-Am racers of the '60s and '70s, with its designers having reinterpreted that period look for the future of motorsports as the Chaparral 2X. 
In real life, the 2X looks even better than in earlier photos. The design takes inspiration from someone in a flying suit with head down and arms outstretched, an influence you can really see that in the vehicle's shape. The driver lies facedown inside with the instruments projected onto a visor. 
Unfortunately, the powertrain here is a complete flight of fancy and works purely in the video game world. It imagines a laser propelled by lithium-ion batteries and an air-powered generation to make 900 horsepower. The 2X has a theoretical top speed of 385km/h and hits 100km/h in a lightning-quick 1.5 seconds. 
Scroll down to see the concept on video with Chevrolet designers describing their inspiration and read the company's full announcement. It's also downloadable in
Gran Turismo 6
.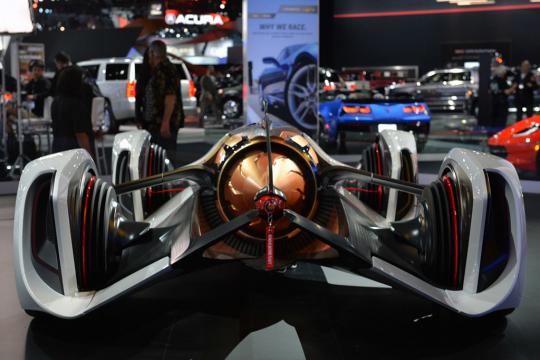 chevrolet

,

chaparral

and 4 more...
Viewed: 3,719 times