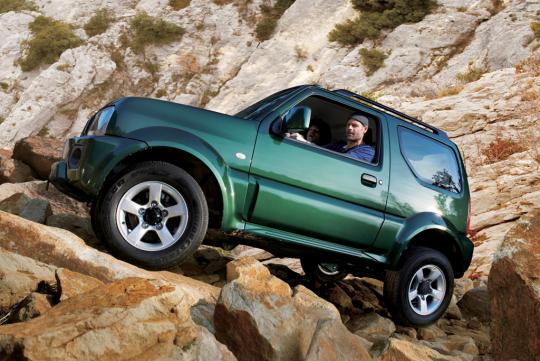 Suzuki might be gone as an automaker in the US, but the brand is still driving along in other parts of the world. In fact, it even has new products in the pipeline and among them is a replacement for the venerable Jimny compact SUV (better known as the Samurai in America).
The last all-new Jimny hit the market back in 1998, but the little SUVs have grown quite a cult following, especially in the UK. Farmers love them because the compact vehicles can go just about anywhere, thanks to a relatively high ground clearance, small size and four-wheel drive. With the new generation due in 2017, according to
Top Gear
, that's nearly 20 years of hard work for this off-roader. Though, Suzuki refreshed the Jimny slightly for the 2013 model year (pictured above) across the pond with a revised front end.
Don't expect the future iteration to go soft, though. Unlike the similarly long-lived Land Rover Defender, which is rumored to be a bit friendlier in its next generation, Suzuki wants keep the model's abilities as capable as possible, while adding some modern assistance systems. "The next Jimny will be an evolution. It will follow the same recipe. When you see it you'll know it's a Jimny," said the automaker's UK sales boss Dale Wyatt to
Top Gear
. "If you were a sheep farmer in the Scottish hills you'd see the car is perfect; no argument to change it."
If all these promises about the future come true, we might get to hear about the Jimny driving around the world or pulling a huge truck out of the snow for many years to come.
suzuki

,

jimny

,

suv

,

off road

and 2 more...
Viewed: 2,894 times