Toyota's official tuning arm, Gazoo Racing, worked their magic on Toyota's mid-size executive Mark X sedan and brought the GRMN Mark X concept alive.
Launched recently, p
retty much everything that was on the concept made it into production. It still uses a six-speed manual that is hooked up to the 3.5-litre V6 that produces almost 320bhp and 380Nm of torque. LSD is standard and with the ability to switch off the stability control, those who want to drift their GRMN Mark X can do so easily. 
Some feature highlights include the carbon fibre reinforced plastic roof to lower the central of gravity of the car and some cosy-looking bucket seats 
New quad exhaust improves the look of the car from the rear while additional bars enhances structural rigidity.  
Watch drifting professional Manabu Orido put the car through its paces, mostly sideways without saying...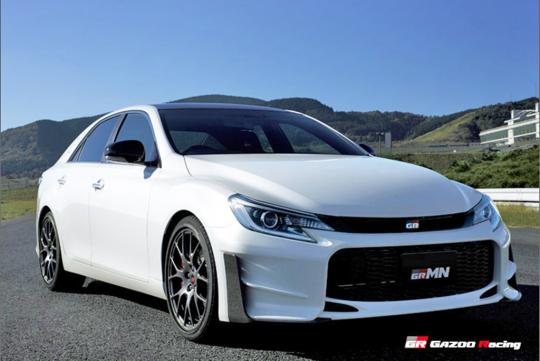 Available only in black and white, Gazoo Racing is producing only 100 units of the GRMN Mark X and it is not meant for exporting. What a waste! 
grmn

,

mark x

,

markx

,

gazoo racing

and 2 more...
Viewed: 3,221 times