Check out the brand new Toyota Pixis Mega, a new model that looks just like a toy car and is the latest member of the Pixis family supplied by Daihatsu.
 
Like all kei-cars, its dimensions fall under the ruling where width can't be more than 1.48 metres, length of not more than 3.4 metres and height of not more than 2 metres. 

You may not believe it looking at the photos, but the Pixis Mega can seat four adults 'comfortably' - provided that they don't exceed the average height of Japanese males of 1.7 metres. 


 
Cabin height is a class-leading 1.455 metres, while total height of the vehicle stands at 1.835 metre. Despite being much taller than wide, Toyota says the Pixis Mega offers stable handling, thanks to revamped suspension and body structure.
Hightlights of the car includes one-touch electric sliding doors for rear passengers and 'lots of storage space' according to Toyota. 
There's a dedicated storage space beneath the trunk floor with a capacity of approximately 90-litres (reduced to 16-litres on 4WD models). This extends the total trunk height to a maximum of 1.485 metres, which means large objects can be loaded upright without folding down the rear seats.
Like all kei cars, the Toyota Pixis Mega is powered by a 0.66-litre petrol engine. It is offered in either naturally aspirated guise (51bhp) or turbocharged guise (63bhp). The base two-wheel drive versions are said to be able to average as little as 25.4km/L.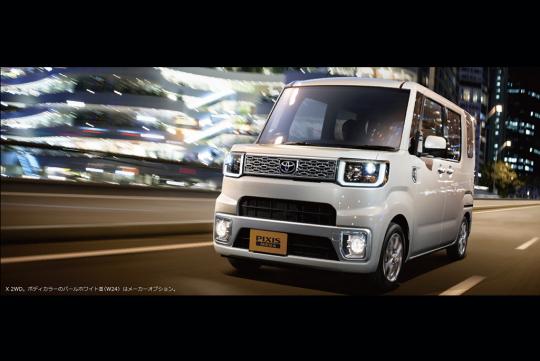 toyota

,

daihatsu

,

pixis

,

mega

and 3 more...
Viewed: 2,906 times