The Jeep Wrangler can do a lot of things. It can traverse most any terrain, take you to work, the kids to school, get you and your friends to the surf on time, and so on. Turns out it can also feed the hungry – or at least this one can. And by can, we mean actual cans of food.  
To celebrate Canada Day (which was Wednesday), Jeep recreated a Wrangler out of more than 4,500 cans of food. The project was undertaken together with Canstruction Inc, a charity that works to fight hunger and poverty, serve the community, and promote science, technology, engineering, and math.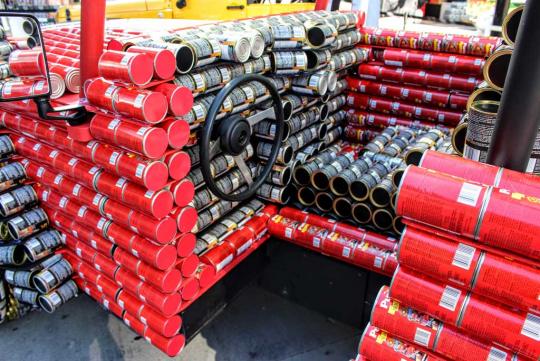 The full-scale replica took a team of teenagers a good 12 hours to build. It's being displayed at Vancouver's waterfront Canada Place during the festivities, after which it will be dismantled to provide 3,120 meals for the hungry through the Greater Vancouver Food Bank Society.  
This is the second such project we've seen FCA Canada undertake together with Canstruction. Last time it was a Dodge Grand Caravan created to celebrate the minivan's 30th anniversary. It was built out of 30,000 cans and displayed in downtown Toronto before being distributed as 2,000 food baskets through the Daily Bread Food Bank. Next time maybe we'll see a Viper or Challenger made out of cans on display in Montreal during the Canadian Grand Prix weekend and donated to the Old Brewery Mission, which this writer knows first-hand does good work to feed Montrealers in need.  
jeep

,

wrangler

,

4x4

,

4by4

and 1 more...
Viewed: 798 times