We were there at Round 1 of SMSA's Auto-Gymkhana Series which was held over the weekend. With a total of
 43 entries across five classes, it was good fun watching the participants going through the two different layouts. Pardon the limited amount of photos shown here as space is limited. More will be posted in due time on facebook...
Having lots of power on such a small course isn't much of a use. Being small, light and nimble is the key to a better timing, hence the number of little Suzukis here. Quite a couple of them turned up for this round. 
Here's one of our contributors from Torque,
Shreejit Changaroth 
doing his thing in the Ignis Sport. It was cornering hard on three wheels half the time. 
This little Vivio was on three wheels half the time too!  
Judging by the way it went through the course, we have faith it will. 
This 1st generation MX-5 trying its best to go round the barrel as fast as it can. A limited-slip 
differential would be useful we think.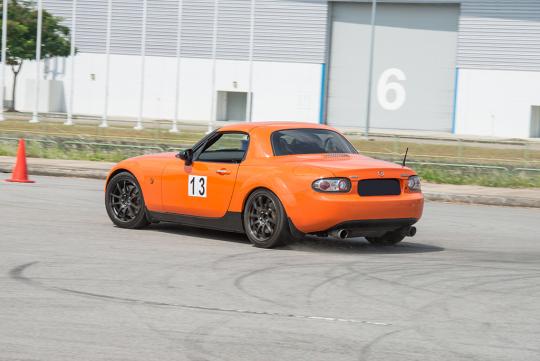 Bet the driver must be having fun. 
No, you don't need a sports car to enjoy motorsports. 
Yes, even a run-of-the-mill family sedan like this Impreza 1.6, can be fun. 
Another family sedan, a Kia Cerato Forte, doing a handbrake turn here. 
It was fun to watch the rear-wheel drive guys sliding the car around. However, sliding around actually makes you lose you time. This 1M was only BMW around that day. 
The Toyota 86 looking at home here... 
So is this good-looking Nissan Sileighty, which is a combination of the Nissan Silvia and the Nissan 180SX. 
The lotus looked like a handful on the course. It is pictured here looking beautifully sideways. If you look carefully at the photo, you can see an iPhone attached on the roof being used as a video camera. Brave use of his iPhone!  
There were a couple of standout cars like this Mitsubishi Evo which looked and sounded awesome. Its trick All-wheel drive drivetrain and differentials allowed it to do donuts round the cone easily. 
The other impressive entrant which I believe won its class, is this little humble Proton Satria. Obviously, it should have some work done to it but even so we never knew front-wheel drive cars could actually be that effective in a Gymkhana event! 
For those who are interested in entering the next event, Round 2 has been t
entatively scheduled for Sunday, August 30! Do contact them here for information on how to enter. Rumors has it that not many slots are left!
gymkhana

,

smsa

and 5 more...
Viewed: 1,838 times