Infiniti's Q70 mid-size sedan, previously called Infiniti M37, gets a little facelift, a new name and a smaller engine. We find out how it does.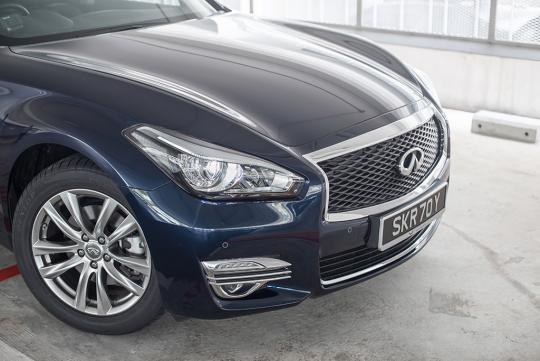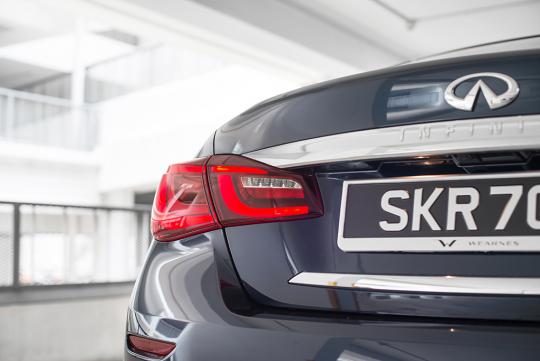 Starting from the outside, the refreshed Q70 gets new front lights, new grill and a new bumper design. The rear receives a similar update and I must add that LED signature of the rear lights when turned on, are pretty good looking. 
The rim design is new too. 
Inside, things stay pretty much the same. 
Front and rear passengers will not have anything to complain about when it comes to comfort. Seats are soft and the front passengers even get to cool their behinds using the standard ventilated seats. A very important feature on our warm little island. 
Boot space (500 litres) is on par with the rest of its rivals in it class. 
Elsewhere, little touches like the analog clock give the car a premium feel. The other highlight is the awesome sounding 10-speaker Bose sound system. 
Dials are classy and easy to read. 
Moving on to the driving, the steering is just about right in terms of feel and weight for its class. Driven normally, one will not find anything wrong with it. Keener drivers might want a sharper turn in and a more direct rack. 
Drive Mode Selector should be left in Sport at all times. The other modes makes the car feel slightly lazy.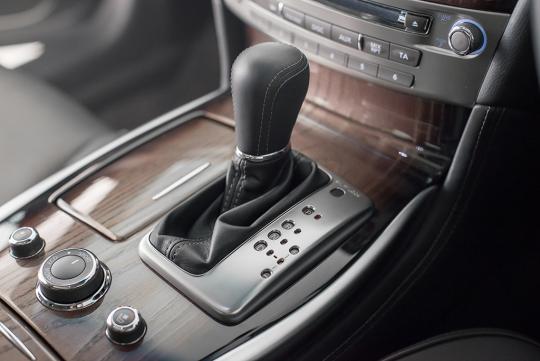 The Q70's seven-speed automatic features '
Downshift Rev Matching' which to me, is the best feature of the whole car. An automatic that blips the throttle on downshifts like pros who heel-and-toe in manual cars? Sweet! 
While the naturally aspirated 2.5-litre V6 won't win lots of drag races, it sure sounds pretty darn awesome. A more free-flowing exhaust is a must to let more of the V6 symphony go into the cabin. Other then the slight lack of pace due to the weight of the car, the smaller engine in this facelifted Q70 is not inferior to its bigger-engined predecessor.
infiniti

,

q70

,

review
Viewed: 2,610 times