While there are plenty of hot hatches in the market, not many have more than 300bhp. And out of the few that do, only one is rear-wheel driven among the all-wheel drives and front-wheel drives ones. If you are a petrolhead, you would probably have guessed that I am talking about the BMW M135i.
Recently facelifted , the much prettier looking five door hatch is no longer hampered by its looks. You can take it that I am no fan of the drool-eyed-face of its predecessor.
Inside, not much has changed but then again, there isn't any wrong from the beginning. Wished the car had more differences inside between the base 1-series and this hotter M135i variant though.
Boot space is adqueate for a hatch. A quick fold of the rear seats increases it by more than three times.
Sport seats provide decent support during hard cornering while still maintaining some degree of comfort.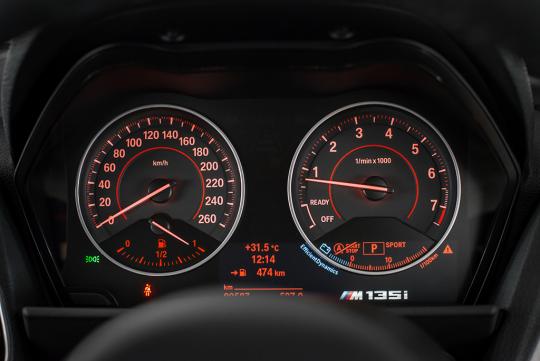 Again, like the interior, the dials could have been a little bit more funky since this is a hot hatch.
Readout shows 400hp and 480Nm of torque but engine only puts out 326bhp and 450Nm. Still cool to see the gauges at work even though most BMWs now have this Sports Display.
On the topic of power, this in-line six is a work of art. With almost no turbo lag unlike some of the 2.0-litre turbocharged units found in its rivals, this powerplant pulls strongly all way from idle till the redline with no sign of breathlessness. If BMW aimed to make this unit feel like a large non-turbocharged unit, I think they succeeded.
While the engine is the standout feature of the car for me, the gearbox is in no way inferior. Shifts are fast and snappy in manual mode and when the fun stops, you can leave it in D and it will shift as smoothly as you ever wanted.
Handling wise, there is no perceivable change from the pre-facelift model. The ride is still as taut as before and in the turns, the car still inspires confidence when driven briskly. Steering weight feels good for me but I reckon some others might find it a tad too heavy.
No complaints on the brakes. It is easy to modulate and feels powerful enough for track use.
One area that I feel needs some sorting out is the noise level. BMW needs to let more sound out from exhaust!
Viewed: 2,304 times