It was only less than two years ago that we test drove the Lexus ES300h Hybrid. We rate it pretty well and it sold well too in our market. However, Lexus thought there was further room for improvement in the car. Fast forward to the present, we now have the new facelifted Lexus ES300h Hybrid here with us.
Featuring a new face that includes a sharper "Spindle Grill", new lights and bumpers all round, the car looks more dynamic now. I must say the new design is such a big step forward that it makes the pre-facelift model look dated almost immediately.
The newly-designed wheels complement the car well too.
Inside, the biggest change that comes with the facelift is the new steering wheel. Again, the new wheel is a good step forward in design. It looks less clunky and modern compared to the older model.
Elsewhere, a new gear shifter and a new wood trim freshen up the ES300h.
There is no change in cabin space which didn't matter because it was more than adequate in the first place. That said, the ES is a best sampled as a rear passenger.
Yup, rear passengers have access to a cool remote switch which allows them to adjust the front seat 's position to get maximum legroom when there is no one seated in front.
Trunk space not the biggest around (420litres) but will still swallow a couple of golf bags.
So how does the ES300h fare on the roads? Well, make no mistake, the ES300h is all about comfort and is no sports sedan. While the car no slouch (it does the century sprint in a brisk-enough 8.5 seconds), it is far from blistering. Step off from standstill is pleasantly immediate with the electric motor clearly providing a good load of instantaneous torque. If driven with a light foot, I believe the car can return a not-too-shabby-for-this-class 13-15km/L.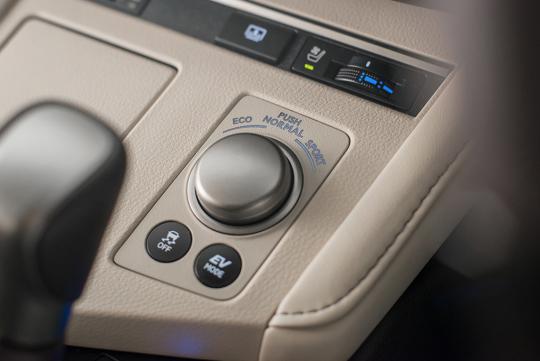 You will need to use "Sport" mode to get the most out of the car.
On the handling front, the Lexus is secure and predictable. You could also read that as being not exactly fun to drive. However, this is expected, considering its target audience isn't your typical "ah beng driver". Steering feels well-oiled and weighted enough to instill a good sense of stability while traveling on the highways.
In conclusion, the updated ES300h is a car
worthy of consideration
for those who want a large Japanese luxury sedan to waft around in. While the updates are mostly non-mechanical, they do add up to give the car a slightly more upmarket feel.
lexus

,

hybrid

,

es300h

,

review
Viewed: 1,671 times