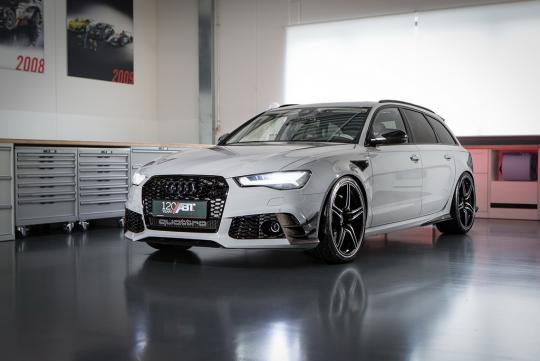 ABT Sportsline will be celebrating the company's 120th anniversary by giving the Audi's RS6 172bhp more than the stock output. Called the ABT RS6, the souped-up RS6 will be debuting in Switzerland an will produce a stunning 724bhp and 920Nm of torque. With this amount of power, the car will be able to top 320km/h easily.
Details on how the car achieve this much power has not been detailed but from the photo, you can spot a new aero package which adds carbon fiber exposed air inlet panels, front cannards, side mirror caps and rear skirt, on top of the rear spoiler
Only 12 units will be available and the car will come with 22-inch ABT FR wheels, wrapped in 295/25 Dunlop performance tires.

Expect more details to come when the 2016 Geneva Motor Show nears.
Viewed: 15,708 times