The Bugatti Chiron is here and here's everything you need to know about it's debut at the 2016 Geneva Motor Show.
One of 2016's most eagerly anticipated cars is finally here: the Bugatti Chiron has been unveiled at the 2016 Geneva Motor Show. The successor to the Veyron boasts an astonishing set of figures, and will come with a £1.9million(SGD3.7Mil) price tag when it goes on sale in autumn this year.
Bugatti modestly describes the new Chiron as the "world's most powerful, fastest, most luxurious and most exclusive production super sports car". It uses a redeveloped 8.0-litre, quad-turbo W16 engine to produce 1479bhp and 1,600Nm of torque from as little as 2,000rpm.
That's almost 300bhp more than its Veyron Super Sport predecessor. The top speed is limited to 420km/h for "road use", but the firm states this is "by no means the end of the road" for the Chiron. The speedo runs up to 500km/h, but we don't expect that to be achievable any time soon.
Bugatti has made this monumental speed possible by enlarging each of the four turbos and introducing an innovative new two-stage spooling system. A titanium exhaust also features, as do six enormous catalytic converters. The manufacturer also claims the Chiron uses the highest-performance clutch ever fitted to a passenger car. Carbon silicon carbide brakes with eight pistons rein all that power in, as does the air-brake that protrudes from the rear haunches.
But this isn't just a straight-line weapon, according to Bugatti. The carbon body is based around a new carbon-fibre monocoque chassis, which should mean it's considerably lighter. It gets an adaptive suspension system and specially developed tyres, and is claimed to be "an agile, modern Bugatti with handling that ensures maximum driving pleasure".
Although the car has been testing for some time now, the bold mix of curves and straight lines for the exterior is still striking. At the front it gets a sculpted bonnet and low headlights, while round the back, a unique 1.6m long LED light strip features. It's taller and wider than the Veyron, with increased space in the cabin. Inside you'll also find luxury features like a high-end sound system, WiFi and 31 leather trim colour options.
Only 500 examples of the Chiron will be built, and around 166 of those have already been snapped up by super-rich customers.
Incredibly, one potential super-wealthy buyer has paid deposits for no less than six Chirons, and Durheimer added that he was aware of some customers buying used Veyrons to give themselves a better chance of being allocated a Chiron, as the brand will look more favourably on current owners.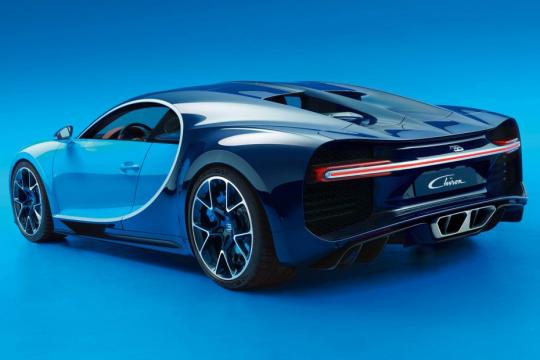 bugatti

,

chiron

,

bugatti chiron

and 2 more...
Viewed: 16,204 times