Toyota's 1980's AE86 became a legendary icon among driving enthusiasts thanks to its affordability and great drive. We are sure the Japanese

comic by Suichi Shigeno,

Initial D, helped too...
To pay tribute to the successful comic series which has since spawn a few movies and gained many fans, Toyota U.K. has created the GT86 Initial D Concept. The new age 86 borrows its livery directly from Takumi's 'panda-coloured' AE86 coupe. For those now familiar with Initial D,

it is the story of Takumi Fujiwara, a teenager who drives a modified AE86 everyday to make deliveries for his father's tofu shop. After many years of doing so, he unknowingly honed his driving skills.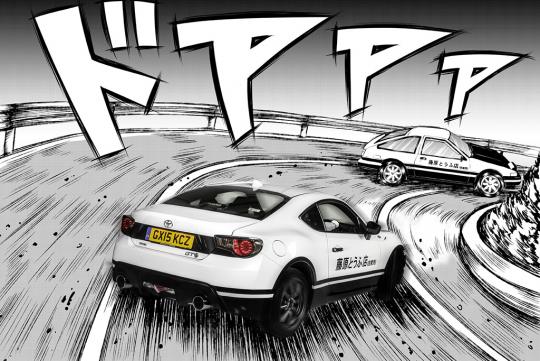 As for the 86 that is

set to appear at motoring events around Britain soon, it receives a few upgrades including

RS Watanabe alloy wheels, a TRD suspension, Fujitsubo exhaust, Cusco strut brace, carbon fibre hood, yellow fog lights, mud flaps and carbon door handles. Of course, the all-important

Fujiwara Tofu Shop decal has to be on the car too.
Viewed: 2,649 times