Find your new Audi R8 V10 Plus too slow even though it has more than 600bhp? Underground Racing has solutions to give it more than 1,400bhp. According to the American tuning house, the twin turbo R8 Plus is 'something that should only be experienced, not explained'. Sounds like fun to us.
For those who don't know how fast the R8 V10 Plus is from the factory, it will do 0-100km/h in 3.2 seconds and top out at 330km/h. Doesnt sound slow to us. But for those who feel that its insufficient, there are a few upgrade packages that the tuner offers.
First up at around S$65,000, the base twin turbo system will give you about 800 wheel horsepower which translate to around 960bhp. Nex up, the Stage 2 tune will give you around 1,050bhp at the cost of S$92,000. Stage 3 (S$133,000) will give you around 1,200bhp or if you pump in some racing fuel, you will see around 1,500bhp on your dyno chart. At this point though, your engine has to be modified unlike the other previous stages.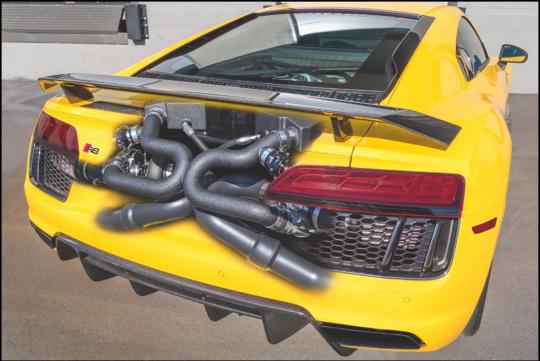 Still not enough? The final package, which is fittingly called the X Version TT, can give you around 1,400bhp on normal fuel and over 2,600bhp on racing fuel. Now that's mad.
Viewed: 1,394 times