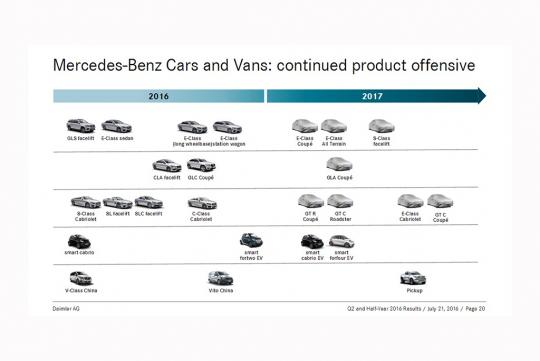 Spotted inside Daimler's 2016 half-year sales presentation slides is a small image that gives us an idea what the brand has in store for next year.
Size wise, the GLA Coupe will be one of the more interesting add ons to the A-Class family. Will it adopt a coupe-like silhouette like its bigger brother, the GLC Coupe and GLE Coupe? Or will it be just a facelift of the current GLA crossover?
At two classes up, we will have the all new E-Class Coupe and Cabrio that should be ready by end of next year. The E-Class All Terrain which we guess should be similar in concept to Audi's A6 Allroad and Volvo's V60 Cross Country, will make an appearance too. It is unlikely to appear in our market though.
Next up, the S-Class luxury sedan will get a refresh which sounds about time given that the car is nearing its third birthday.
As for
Mercedes-AMG, the
GT C Coupe and GT C Roadster shown on the road map is an unknown mystery. Is it a facelift of the current AMG GT? Or is it a toned-down/smaller version of the car? We will only know next year.
Those looking for a commercial vehicle might want to wait for the brand's first ever pickup truck which is rumored to be named GLT. It is reported to be based on the underpinnings of the Nissan NP300 Navara.
Viewed: 4,378 times