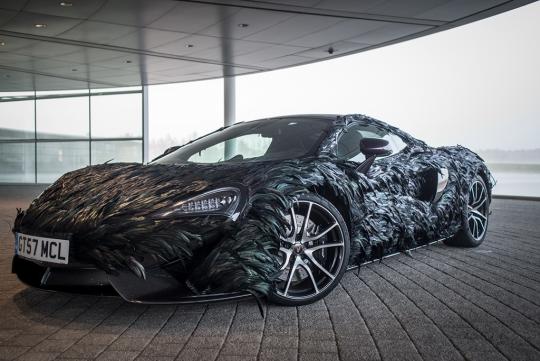 Feel like having your McLaren 570GT as light as possible? McLaren's new Feather Wrap option is the answer for you.

Created by MSO, the company's bespoke division, this aero-perfected wrap needs 300 hours worth of time to create and consists of

nearly 10,000 carbon-veined artificial feathers. Each feather is seven centimetres

long and covered with a pearlescent lacquer, the feathers are applied to the car parallel to the forward direction, thus cushioning the effects of the air flowing over the bodywork.
"Our engineers and designers have long been inspired
by nature in our aim to create the lightest and most aerodynamic shapes on the road. We call this biomimicry," said Robin Crane, McLaren's Biomimicry Specialist.
"And it was on a beautiful day walking around our Woking campus that one of us looked up at the birds circling our lake, then picked up a feather from the ground and placed it on a car… That turned into a conversation with the craftsmen and women at MSO that led to the creation of the Feather Wrap."
Buyers who want this exclusive wrap will get a chance to spec their 570GT with the Feather Wrap option only on 1st of April. ;)
Viewed: 8,358 times