Our brothers in blue have several reserved lots as of now and we've heard some complains about paying season parking but not getting a lot. Here are some solutions for our Yistana driver friends:Source: The Straits Times
Source: https://yishun.town/
"I, Halimah Yacob, having been elected as President of the Republic of Singapore, do solemnly swear that I will faithfully discharge my duties."
With those words, a Wikipedia entry was updated last night. Singapore now has her first female president. Describing this as a significant moment in Singapore's history, Prime Minister Lee Hsien Loong said: "Today, we reaffirm the pledge that Mr Lee Kuan Yew made on August 9, 1965... Everybody would have his place, equal, regardless of language, culture, religion."
But does everybody really have his place? Word on the street is that Madam President would like to continue staying at her "jumbo" HDB flat in Yishun and it is not clear yet if she will be moving to the official residence in Orchard. From the get-go, this presents several situations for her neighbours.
On the other hand, Yishun has been the butt of jokes for the past few years ever since an unusual amount of unfortunate circumstances happened, originated or were related to this northern town. Housing a population of only 205,000, this town has churned out a disproportionate number of murderers, suicide cases, molesters, and even strange natural occurrences like monster caterpillar clusters. Occasionally called Yi-slum, our first female President has singlehandedly turned this district's reputation around by going against the grain and choosing an abode like 85% of Singapore's population.
Our brothers in blue have several reserved lots as of now and we've heard some complains about paying season parking but not getting a lot. Here are some solutions for our Yistana driver friends:
1. Sell your car
Take public transport. Earlier this week, Minister Khaw Boon Wan said in parliament that the new signalling system on the North-South Line could be completed in the next few weeks. This means less delays and breakdowns (we hope), and Downtown Line 3 will commence service in October so it'll be more convenient to get to places.
Source: Facebook
2. Buy a smaller car
Certificates of entitlement (COE) for smaller cars plunged to its lowest level in almost seven years at the latest tender on September 6 as a new emission standard kicked in and as bidding from private-hire firms dried up. By small, we mean something like the Chery QQ. With some preplanning and manoeuvring, you could share a parking lot with your neighbour. This way, parking spaces can be doubled.
And judging by the Presidential Motorcade, a smaller car will help you leave your carpark more easily too.
3. "Do Good Do Together"
Taking reference our President's campaign slogan, Singaporeans should band together to provide security for Madam President. Make friends with the officers so they won't "saman" you for not parking at proper lots. Offer your in-car camera as additional security. Don't have one? Buy one.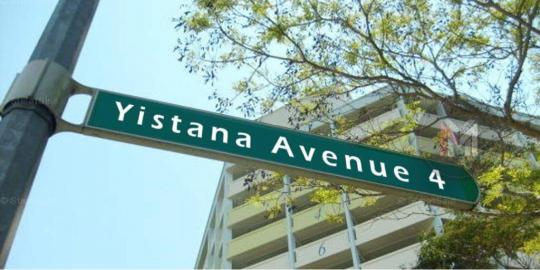 Source: Facebook
Yi-slum, is now the Yistana. Perhaps a more distinguished address than Sixth Avenue since not even a loan shark would dare appear at your block to O$P$ should you renege on your debt.
While having the President as your neighbour exponentially increases perks (for you, not for her since we foresee plenty of residents offering unsolicited "improvement" advice), drivers are now facing a potentially major problem even though property prices just surged overnight.
Source: Lianhe ZaobaoLack of parking spaces.
4. Find other parking
Make use of our Carpark Rates information (website or app- iOS/Android) to find other parking spaces. You'll know the rates, availability and even which carpark is closest to you.
With the heralding of a new President, the luck in Yishun looks to change for the better. We wish all its once-doomed residents the best.
This tongue-in-cheek article was written by an anonymous source who would prefer not to be lynch mobbed by current Yishun residents. The writer apologizes to any offended readers.
halimah yacob

,

president

,

yistana

and 1 more...
Viewed: 8,904 times