The Toyota C-HR is a somewhat above average crossover with nifty styling, but, for the high-performance C-HR R-Tuned you see here, built by Dan Garder Spec (DG-Spec), they ditched the stock engine and transmission for something new, and added plenty of other upgrades to make a truly exhilarating machine.
Under the hood is a powertrain that's actually on the old side. It's a 2AZ-FE engine and Toyota E-Series 5-speed manual transmission, both of which have been used in multiple Toyotas and the original Scion tC. The 2.4-liter engine isn't stock, with forged internals, a titanium and Inconel valvetrain, and a Garrett turbocharger setup producing 23 psi. The transmission isn't quite stock either, as it features an OS Giken limited-slip differential. The end result is a little 600-horsepower monster, which is as much as the Nissan Juke-R 2.0, and more horsepower than the first version of the Juke-R. Toyota also claims this powertrain will rocket the little crossover to 60 mph in just 2.9 seconds.
The C-HR R-Tuned should also stop as well as it accelerates. Up front are four-piston Brembo calipers with 14-inch rotors. Handling benefits from remote-reservoir adjustable shocks at all four corners, as well as 275-mm wide tires. The various aerodynamic additions such as the front splitter and rear wing all help produce about 300 pounds of downforce at speeds above 100 mph. The interior has also been gutted and a roll cage, racing seats, and racing harnesses fitted.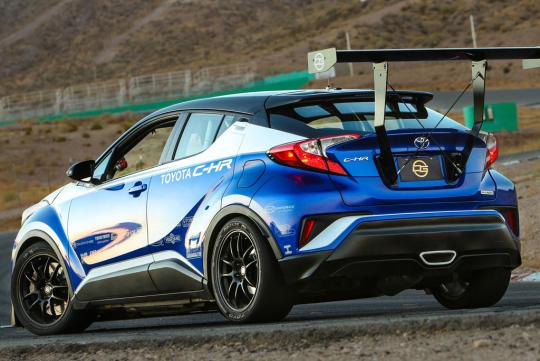 The only bummer is that, unlike the Nissan Juke-R, we probably won't see any production versions of this wild C-HR. Not only would it be hard to make a business case for it, but it was also built by an aftermarket company outside of Toyota. Our best hope would be that it has a positive reception, and Toyota would see the potential for offering a much milder performance variant a la Veloster Turbo. And if we're honest, we'd be cool with that.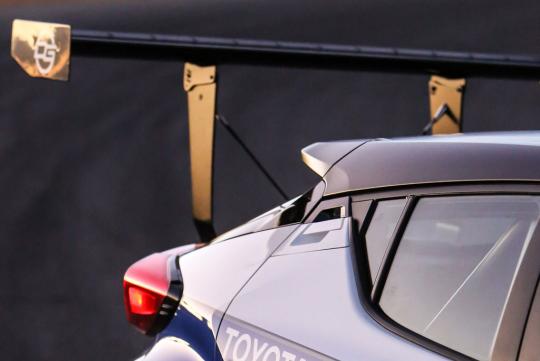 toyota c-hr

,

c-hr

,

crossover

and 1 more...
Viewed: 7,799 times