The Formula One 2018 season is kicking off this weekend, and the warm-up lap is going to be led by the most powerful Safety Car the sport has ever seen. This season, the Mercedes AMG GT R will be the safety car of choice – and as you probably already know, it's a savage bit of kit.
Producing 577bhp from its 4.0-litre V8 biturbo engine, the mid-engined AMG GT R is also has a top speed of 197mph – making it the fastest course car ever. While no match for the F1 cars behind, the AMG GT R does have its own racing DNA, and borrows many parts from the even more hardcore AMG GT GT3 racer. What's more, active-aerodynamics, rear-wheel steering and nine-way adjustable traction control give it an edge on the road.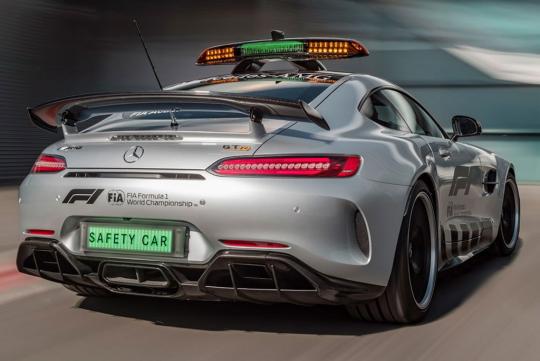 The Safety Car version of the GT R gets F1 signage and a light bar on the roof, and Mercedes says the positioning of the latter is a result of extensive wind tunnel tests. Inside, things are much the same, but two iPads give the co-driver all the essential race info such as the position of cars on track, lap times and the international TV broadcast.
Honed and tested at the Nurburgring, the newly unveiled Mercedes-Benz AMG GT R even has a colour named after the famous circuit – AMG Green Hell Magno. The world debut may have taken place at Brooklands Mercedes-Benz world in England's leafy Surrey, but there's no doubt as to where this car's spiritual home is.
The third member of the rapidly expanding AMG GT family, the R is Merc's most powerful production car since the SLS AMG Black Series – although Mercedes maintains the GT is a very different car.
The GT R has a Nurburgring laptime likely to dip under 7min 20sec, according to Tobias Moers, the head of Merc's AMG division.
Just like on the standard car, they're fitted inside the V configuration, in a system Mercedes refers to as 'hot inside V'. Benefits include a more compact engine design and faster responses from the turbos. They've been uprated to give greater boost pressure and liberate more power – 577bhp to be precise; 74bhp more than the AMG GTS and a full 84bhp more than the Porsche 911 GT3 RS.
Is it the coolest safety car of all time?
mercedes

,

mercedes amg

and 6 more...
Viewed: 6,482 times