BMW's new 5-er looks so much better without Bangle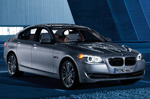 It's only been a couple a months since Chris Bangle, infamous for designing what everyone dubbed "bangle butt" on the BMW series of vehicles, left the famed German company. Since then Adrian van Hooydonk has been hard at work slimming the profiles and softening up the lines on their cars.
A beautiful example of their hard work is in their new 5 Series. The team has kept the looks of the car in-line with their current 3 Series, but predictably stretched, certainly staying true to how they used to be designed back in the days.
Check out this photo! Tell me that doesn