A hybrid powertrain for Honda NSX
How do you feel when you see VW rims on Skoda?

22 members have voted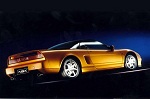 The Honda NSX is the only car from the Japanese firm that can be considered as a supercar. A lightweight all-aluminium body, rather healthy V6 engine and great looks that put some of its western rivals to shame. This model alone lasted for almost 15 years, although it received some minor changes along the way.
Honda had to cease production of the car when the car could not pass stringent global emission regulations that were to take place in 2006. In 2008, Honda revived the idea of replacing the NSX with a new model which featured a V10 engine, but they had to scrap that idea soon after due to the global financial crisis.
But it seems that Honda is keen on reviving the idea again as they have confirmed that a concept (known as the Super Sport) will be showcased at the Detroit Motor Show in January 2012. This time it will not use a V10 engine, instead it will feature a hybrid powertrain.
One of the first clues to a NSX successor was spotted recently at a film shoot for the upcoming Avengers movie. Honda refused to comment about the car in the photo but many believe that this could be the car in question. Should this car go into production, then we might get to see it as early as late 2013.
Honda recently showed a fleeting image of the model to journalists at their Motegi Twin Ring race track. According to Honda chief of research and design, the car will define the new image of Acura (Honda