Special edition Lotus Evora S: Freddie Mercury and The Who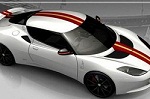 A special edition car made or designed by/for celebrities are not common nor is it something new. There have been a few examples such as the Paul Newman R30 Skyline. But the difference between the Paul Newman Skyline and this two special edition Lotus Evora S is that the Evoras are one-off items specially designed for charity purposes.
The Freddie Mercury Evora S was specially made for the birthday (05 September) of the late former Queen frontman who passed away on 24 November 1991. To honour the occasion, Lotus donated a one-off Lotus Evora S which will be auctioned off during a commemorative event. The auction proceeds will go to the Mercury Phoenix Trust.
The striking white sports car features red and gold racing stripes as well as an interior which was influenced by one of Freddie Mercury