Honey, someone shrunk the F40
How do you feel when you see VW rims on Skoda?

22 members have voted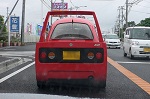 In the Japanese automotive world, there is a quirky automobile category known as Kei cars. These cars are designed to comply with local tax and insurance regulations. Many Japanese automakers manufacture such cars, for example, the Daihatsu Copen and the Suzuki Lapin.
Most of these Kei cars have a unique outlook but one such Kei car looks a little similar to an Italian supercar, especially from the rear. The images you see here is actually a Kei car made by Yamaha and it is known as the Yamaha Ami.
If you were to take a quick glance at the car from the rear, you could have thought that you have just seen a Ferrari F40. But in reality, the rest of the car does not resemble the Italian supercar. The Yamaha Ami is categorised in the Kei car group as it comes with a 660cc engine.
The Yamaha Ami features a three cylinder engine and the car is available in two engine options. The base model comes with a 6-valve single overhead camshaft engine that churns out 42bhp. For those who wish for more power, they can opt for the 12-valve double overhead camshaft that delivers around 55bhp at 7,500rpm.
The engine is mounted at the front and the engine powers the front wheels, unlike the supercar that it impersonates which is mid-mounted and rear wheel driven. The model name Ami may sound a little girly to some but the company