Lexus to introduce a supercharged GS350 F Sport at 2012 SEMA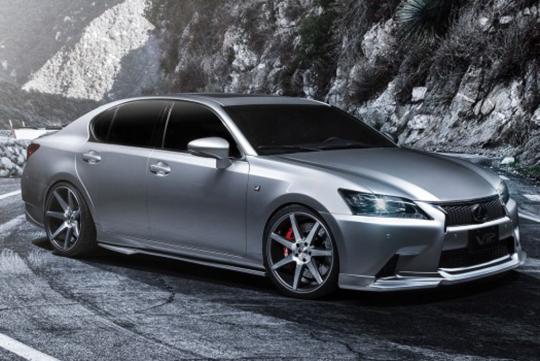 When someone is considering a performance mid-size luxury sedan, probably they will look at something like the BMW M5 or the Audi S6. If that person prefers a Japanese car, then he or she will be left with very little choices. How little are those choices? Probably close to nothing.
But, fret not because Japanese luxury automaker, Lexus is bringing a supercharged GS350 F Sport to SEMA. And on top of that, the company might consider adding a more powerful version of the GS in the near future.
The supercharged GS350 F Sport is a collaboration between Lexus and Californian auto tuner, VIP Auto Salon. The car receives a custom Apexi supercharger kit. Other than this, an Apexi throttle recalibration system and a dual exhaust pipe that stretches from the headers all the way to the back are added too.
To cope with the extra horsepower, a Brembo High Performance GT brake kit and RSR coilovers are fitted on all four corners. 20 inch Vossen wheels replace the stock ones and the wheels are wrapped in Yokohama S Drive tyres.
On the outside, the car is fitted with a custom made aero bodykit from Japanese tuner Wald International. The kit consists of a lip spoiler, side skirts and roof and trunk lid spoilers. No power figures were released at the moment but my guess it would be around the mid 400bhp mark.
Just last year, Lexus unveiled the GS350 F Sport at SEMA. Although it may have a different look from the normal GS but in terms of performance; it is pretty much the same. Consumers might not be impressed with a car like that especially with a sporty sounding name.
The introduction of the supercharged GS350 F Sport is probably Lexus