TRD considering a supercharger for the Scion FR-S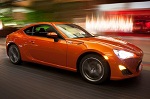 Just recently, Subaru revealed the Subaru BRZ STI at the Australian International Motor Show in Sydney. The car is said to be available for sale soon. And soon after that, the company announced that there are plans to release a turbocharged version of the car.
While Toyota has released a TRD version of the 86 before this, the car only received aftermarket cosmetic parts such as a bodykit, suspension system and some TRD badges. Many were expecting a turbocharger or supercharger to be included as well.
Just days after images of a Subaru BRZ wearing a huge GT wing and a STI bodykit was spotted at the Nurburgring, Toyota's in-house tuning division, TRD, has announced that they are looking into upgrades for the Scion FR-S (Toyota 86 in other markets).
During the recent SEMA auto show, Scion showcased three modified examples of the Scion FR-S and a couple of them were supercharged. And it was at the same show where TRD representatives stated that they are considering a supercharger kit for the Scion FR-S.
Toyota has previously offered supercharger kits for their sports or performance cars and even some of their trucks. And it comes as no surprise that a supercharger kit will be available for the Scion FR-S. The idea of a supercharger kit for the car is still very much in the planning stage and obviously no power figures were given.
One of the advantages of having a TRD supercharger kit is that it offers a full factory warranty by the company and other aftermarket offerings do not often offer that. Since the Scion FR-S (including the Toyota 86) and the Subaru BRZ are practically identical, the supercharger kit should be able to be used for all three cars.
Image credit: Net Car Show