Honda announces three new hybrid systems
How do you feel when you see VW rims on Skoda?

22 members have voted
In Japan, Honda is not so well known when it comes to hybrid cars. Over there, Toyota or Lexus is more popular for its hybrid offerings.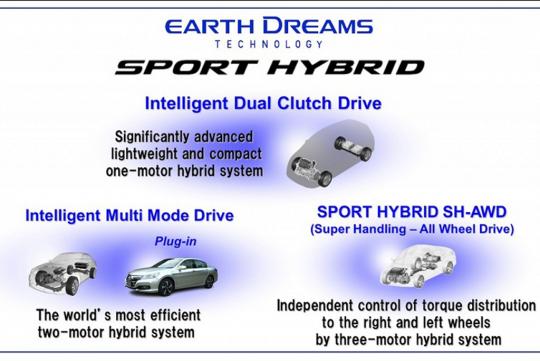 Although Honda has been producing hybrid cars for quite a while, they are not popular as Toyota's Hybrid Synergy Drive vehicles. But things are about to change as Honda has announced three new hybrid systems that will be used in the near future.
Let's start off with the Sport Hybrid Intelligent Dual Clutch Drive system. This particular one is aimed specifically at small, compact cars. It is a single motor system and Honda promises the best fuel economy in its class and better acceleration than any existing Integrated Motor Assist (IMA) vehicles.
This system features a 1.5-litre Atkinson Cycle engine with a seven speed dual clutch transmission which contains an integrated high output electric motor powered by lithium ion batteries.
During heavy acceleration and high speeds, the system uses both engine and motor power. While in low and medium speed, the car functions as an electric vehicle; provided there are sufficient battery charge. Honda stated that this system will improve efficiency by thirty percent when compared to its previous IMA vehicles and at the same time it delivers a more linear acceleration.
Next up is the Sport Hybrid Intelligent Multi Mode Drive which is for larger sized cars. This system features a two motor system which offers three different types of driving modes.
Firstly is the EV Drive which allows the vehicle to function in pure electric mode. This will give a good range in planned plug-in versions. Next is the Engine Drive mode which is used for medium to high speeds. And lastly is the Hybrid Drive mode which mixes power from the engine and the two electric motors. This is particularly useful during heavy acceleration and stop-and-go traffic.
Lastly, the hybrid system which might interest some performance enthusiasts; is the Sport Hybrid Super Handling All Wheel Drive system which utilises three motors. This system uses two electric motors to drive the rear wheels and an engine and a seven speed dual clutch gearbox with an integrated electric motor for the front wheels.
This particular system is ideal for performance and fuel economy. It is said that torque could be precisely optimised for traction on the rear wheels across a wide range of road surfaces and conditions.
A fitted 3.5-litre V6 engine will support the electric motor to give a V8 engine-like acceleration with a V6 engine fuel economy. Honda mentioned that this system can deliver the performance benefits of an all wheel drive performance vehicle while minimising the weight penalties of such conventional systems.
These three new hybrid systems are expected to feature in Honda vehicles in the near future.
Image credit: Honda and Net Car Show