Rolls-Royce plans to increase global dealerships
Entry posted by SYF77 ·
615 views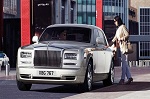 Unfazed by the European debt crisis and sluggish global economy, Rolls-Royce plans to increase the number of dealers from 105 to 120 worldwide in countries such as Vietnam, Thailand and Chile to target the well-to-do.
Rolls-Royce is counting on the growing wealth in Asia and South America to generate demand as the debt crisis dampens sentiment among Europe's rich. The number of households in these regions with more than $5 million in assets is set to grow by 3 to 5 percent per year in the coming years, said Torsten Mueller-Oetvoes, Rolls-Royce's CEO.
"Of course, we feel that the mood isn't the best in certain markets, but we're able to compensate with growth in places such as Russia, the Middle East and China," he said. "Our goal is to grow sustainably and not chase volume. Rolls-Royce will remain exceptional," Torsten added. The concentration of wealth is increasing in developing markets. The Asia-Pacific region overtook North America with the most high-net worth individuals in 2011.
Earlier this year, Rolls-Royce created a Year of the Dragon special edition of the Phantom for the China market, featuring a hand-painted gold dragon on each side of the wheelbase. They were sold out within two months. China is the perfect example rising affluence in Asia.