Fiat 500 Abarth 'Seduction' named 'Best TV Commercial'
Entry posted by SYF77 ·
1,030 views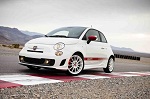 The above displayed Fiat 500 Abarth 'Seduction' commercial was named 'Best TV Commercial' at this year's D Show held on 28th Nov in Detroit. The D Show is an annual event hosted by the Adcraft Club of Detroit dedicated to judging and awarding creativity in Detroit.
Entries are submitted by advertising agencies and reviewed by judges from within the advertising industry.
"It is great to see a video that was created on a shoestring budget and not intended to be shown on television, receive prestigious accolades like the D Show 'Best TV Commercial' honor," says Olivier Francois, Head of Fiat Brand Worldwide and Chrysler Group LLC and Fiat Group Automobiles Chief Marketing Officer.
Seduction was created in partnership with the Dallas-based 'The Richards Group' and stars supermodel Catrinel Menghia.
In the US, the mini hatchback is offered with a 1.4-litre Multi-Air turbocharged four-cylinder that is rated at 160bhp and 230Nm of torque.