Transmission specialist develops hybrid gearbox for premium luxury cars
How do you feel when you see VW rims on Skoda?

22 members have voted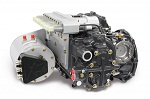 A British engineering company, Xtrac, specialists of high performance and race car grade transmissions, have designed a hybridised automated manual transmission (H-AMT; designated code 1010).
This particular transmission design allows future luxury and performance cars to meet the 95g/km CO2 emission requirements that will be introduced by European legislators in 2020.
The crucial technical part of the transmission system is the integrated electric motor. The electric motor enables the vehicle to travel at speeds of up to 152km/h on electric power alone after which; engine power kicks in. The transmission is said to be able to handle torque figures from 800Nm to 1000Nm, depending on vehicle gross weight and application.
The above mentioned speed range allows torque infill up to the fourth gear during heavy acceleration and in all gears, up to the threshold speed, during low speed driving; when it is considered desirable to keep the engine revs low which will improve vehicle efficiency.
The term 'torque infill' - refers to the application of additional torque from the transmission to the road wheels during the period of a gear change. In a conventional transmission system, torque is interrupted to allow the shift to complete.
The ability to provide torque to the road wheels, independent of the engine, reduces the energy absorbed by the main drive clutch during the vehicle launch pull-away condition which can lead to clutch downsizing and also reduction in drive plate and flywheel inertia. This is seen as an additional benefit in hybridising an automated manual transmission.
The Xtrac 1010 H-AMT is designed as an alternative to heavier and more complex dual clutch transmissions. It has lesser parts and lighter in overall weight and also offer increased functionality over single electric motor hybrid systems. Although dual clutch gearboxes do not suffer from power interruptions either, the company stresses that its products are less complex, lighter and are more efficient than DCTs.
The seven speed transmission offers multiple modes of internal combustion engine and electric motor operation and with an overall ratio spread of 6:1, which is higher than most other transmissions in the market today.
Image credit: Xtrac.com