Move over Rudolph, Santa prefers the raging bull
Entry posted by SYF77 ·
390 views
How do you feel when you see VW rims on Skoda?

22 members have voted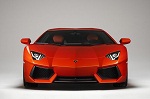 Like AMG, Italian supercar maker Lamborghini has produced a video in celebration of the festive season. The video shows Santa having milk shakes in a bar. The bartender was getting impatient over Santa's repeated orders as it was getting late in the night.
At one point, the bartender points to Santa's bag of presents, seemingly reminding him that it is time to deliver the goodies. However, Santa still requested for a milk shake as the bartender covers his face in dismay.
Just before the clock strikes 12 midnight, Santa finally left the bar in a red Aventador. If you hear the roar of the 6.5-litre V12 engine (pictured above), it could mean that Santa is round the corner!
I find the AMG Christmas video to be more interesting as the viewer does not know the motive behind it until the very end.