Spy shots of production ready - lesser camo'd 4 Series is out!
How do you feel when you see VW rims on Skoda?

22 members have voted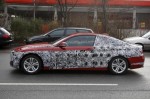 The digital age and the internet it has brought with, is truly an amazing tool for auto fanatics like you and me but I miss the old days for some reason..
I remember the days when I'm back from school and I'll see the latest Autocar magazine on my desk - my only source at that time where I can get a glimpse of the latest scoops and little hints. I don't remember reading much 'leaked' news or spy shots back then.
Till today nothing beats the feeling of an all new model that is released on print and I get to see it up close on the nicely minted glossy magazine. Yes, the internet is a lot faster and usually has a better colour reproduction than print but the 'excitement' level is surely different.
Anyway coming back to what I initially wanted to talk about, spyshots of what seems to be a 90% production ready 4 series have made its way to the widest web of the world. While there is a substantial amount of camouflage present on the car, you get a good preview of what the production ready version would look like.
It has a minimal resemblance to the 4 Series coupe concept that was unveiled weeks ago but it looks inline with the current 3 series just without the two rear doors.
Picture Source: WorldCarFans, Google Images