Subaru releases a track ready BRZ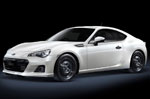 Subaru recently announced that they will be releasing a track-ready BRZ straight from the assembly line. It is known as the BRZ RA Racing and this version is made exclusively for the Japanese market.
Just like any other track or racing versions of the BRZ (or Toyota 86), the BRZ RA Racing is fitted with essential items a person needs when he/she hits the racing tracks.
Luxurious comforts such as air-conditioning and stereo players have been left out and replaced with a six-point roll cage (with sidebar), a four point FIA certified racing harness and new floor mats.
The BRZ RA Racing was designed with braking performance in mind. The front end receives brake ducts and both front and rear brakes get ventilated discs. The car also receives a Torsen limited slip differential. Removable front and rear tow hooks are placed for easy transportation tasks.
In the engine bay, the only additional item is an air-cooled engine cooler and it is clearly seen at the left side of the front snout. Main reasons why the 2.0-litre Boxer engine is left untouched is because that most track enthusiasts would prefer to use their own racing components or parts.
As mentioned above, the Subaru BRZ RA Racing is made only for the Japanese market and it is priced at around US$31,500.