Audi R8 V8 vs Porsche 911 Carrera 4S
Entry posted by SYF77 ·
1,166 views
How do you feel when you see VW rims on Skoda?

22 members have voted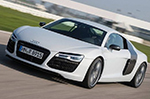 Recently, British magazine Auto Express pit the Audi R8 against the new Porsche 911 on a race track. These two supercars are actually distant relatives considering that both brands are under the Volkswagen Group's umbrella.
The Audi R8 received a facelift in 2012 with the addition of a seven-speed S-tronic dual-clutch transmission that replaces the six-speed automated manual R-tronic. At the other corner, the all new Porsche 911 has a rich heritage that dates back to 1963 and has been acclaimed as one of the world's benchmark sports cars.
The Porsche 911 Carrera 4S is propelled by a flat-six, 3.8-litre engine with an output of 394bhp. In the 4S, power is distributed to all four wheels via a PDK dual clutch transmission. On the other hand, the R8 in this comparison test is motivated by a free-breathing 4.2-litre V8 with 424bhp. Like the 911, the R8 has an all-wheel drive setup.
Whoever wins this group test, Volkswagen wins.