McLaren P1 officially unveiled
Entry posted by SYF77 ·
1,354 views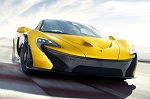 Supercar maker McLaren has released the details of the production version of the P1 prior to its debut at the Geneva Motor Show. Only 375 units will be produced instead of the originally planned 500 copies to maintain the car's exclusivity.
The P1 is motivated by a hybrid powertrain consisting of a twin-turbo, 3.8-litre V8 generating 737bhp with 720Nm of torque and an electric motor producing 179bhp and 260Nm. The engine is mated to a seven-speed dual-clutch automatic gearbox which sends power to the rear wheels.
The P1 has a carbon fibre chassis which weighs 100kg, which is the lightest ever installed on a road-going car. According to McLaren, it is capable of providing the safety and rigidity of an F1 vehicle. The slippery P1 has a CD figure of 0.34 and can generate 600kg of downforce, which is five times more than the MP4-12C.
The super car is fitted with an Instant Power Assist System (IPAS). According to McLaren, the IPAS is the electric motor which can be activated via a steering wheel-mounted button that gives the P1 the throttle response of a normally-aspirated engine. With the IPAS on, the P1 reaches 100km/h from standstill under 3 seconds and achieves 200 km/h within 7 seconds.